The commercial lawn mower is different from a residential lawn mower in many ways. These mowers are made to withstand daily heavy use, built for the long haul, and provide flawless performance in different weather conditions. However, finding the best commercial lawn mower is one tough task as you have limited options that offer perfect mowing performance. We spent hours and hours to analyze the best lawn mowers for commercial use available on the market, checked user reviews and features, and compared the performance before selecting the following lawn mowers for large areas.
Best commercial lawn mower- Top Commercial Grade Lawn mowers for 2023
[acf field="listschema"]
1. Makita XML06PT1- best self propelled commercial lawn mower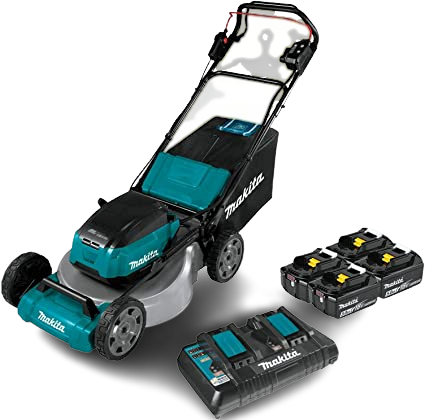 Quick Features
Power source Battery powered
Cutting Width 18 inches
Mower weight 99.2 pounds
RPM 3300
One of the best cordless commercial lawn mowers on the market, Makita XML06PT1 is a perfect solution for efficient grass cutting. With zero emission, reduced maintenance, and lower noise, this 18 inches self propelled lawn mower is powered by two LXT batteries. Thanks to the four bay battery system, it can easily hold four batteries for twice the run time.
The powerful motor made by Makita delivers up to 3300 RPM. There is a dedicated quiet mode to decrease the noise by providing constant speed control at 2500 RPM. One unique feature we love about the commercial grade lawn mower is its Extreme protection technology XPT. This is a protective seal inside the mower and is made for enhanced operation in tough conditions by channeling water and dust from prime internal components.
The commercial grade steel deck with IPX4 water resistant construction ensures durability and long life performance. Another standout feature is an efficient power management system for overload, over heat, and over-discharge protection. The single lever cutting height adjustment allows quick adjustment of 10 cutting heights.
For added comfort, Makita has added the rubberized soft grip handlebar. The 2-in-1 design of the Makita XML06PT1 allows for mulching and bagging. The large grass catcher can hold up to 1.7 bushels of grass. Last but not least, Makita is offering 30 days satisfaction guarantee and three years limited factory warranty for the lawn mower.
Pros
Commercial-grade steel deck
Rubberized soft grip handlebar
Quiet mode reduces noise
Grass level indicator
Quick height adjustments
Cons
Blade design needs improvement
2. Swisher WRC10224H- best commercial lawn mower for hills
Quick Features
Power source Gas powered
Cutting Width 24 inches
Mower weight 342 pounds
4 Speed transmissions with reverse
One of the sturdiest walk behind lawn mowers for commercial use, the Swisher tool is a great addition to your lawn mowing army. It is a perfect mower for cutting trails through the wood and clearing fields and ditches year around. It can easily clear the densest undergrowth along with saplings up to 1.5 inches in diameter. Equipped with a 10.2 Honda (389cc) 12V recoil start engine, Swisher WRC10224H has a heavy duty fabricated cutting deck providing a height range of 3-4.75 inches.
The upgraded gear selection level is located on the operator control panel for effortless shifting. With four speed transmission and reverse technology, you can easily adjust the cutting height according to your requirements. I liked the adjustable height handlebar as it helped a lot to ease the control panel during mowing. Thanks to the single G6 Gator commercial cutting blade, it zips through brush and saplings with convenience. Additionally, the blades are enclosed for optimum safety.
There are front safety deflectors combined with protective guards for improved user protection. It has sizeable pneumatic chevron tires that roll effortlessly over the rough terrains for ideal traction in all conditions. A reverse mode is always handy to back out for rough spots. However, the WRC10224H has trouble going downhill due to the heavy weight but is an ideal option for clearing dense undergrowth.
Pros
Honda GXV Commercial Grade Engine
Adjustable height handlebar with hand controls
Single G6 commercial cutting blade
Automatic Operation Mode
Large pneumatic chevron treads tires
Cons
3. EGO Power+ LM2142SP- Best Electric Commercial lawn mower
Quick Features
Power source Battery powered
Cutting Width 21 inches
Mower weight 70.9 pounds
6-position cutting height adjustments
This self propelled lawn mower by EGO Power delivers exceptional performance and extended run time to make your lawn eye catching. The Peak Power Technology by EGO is the combination of two EGO Power+ 56V 5.0Ah ARC lithium batteries to provide a long power draw. With up to 80 minutes of cut time, EGO Power+ LM2142SP tackles the toughest of moving applications.
Thanks to the lightweight and sleek construction, you can easily mow the tool without minimum effort. Also, you can fold the mower for convenient storage. There is a patented 56V ARC lithium battery technology for smart power management. The technology also helps to prevent overheating while moving commercial areas.
The six adjustable height settings allow selecting between 1.5 inches to 4 inches. This best lawn mower for commercial use features 3 in 1 functions, including mulching, bagging, and side discharge. Additional, there is a quick and push button start available for your convenience. One of the best features of LM2142SP is its one handed height adjustment that allows cutting at any length.
Two powerful LED lights located on both sides are ideal for dawn and dusk mowing. This commercial lawn mower comes with a silent operation which means you can easily hear your phone ringing or family member calls, and above all, it won't disturb your neighbors with loud noises. Last but not least, the cordless design makes it a perfect choice for hill areas.
Pros
High-efficiency brushless motor
1-handed height adjustment
Bright LED headlights
Sleek and lightweight construction
Foldable design for easy storage
Cons
4. Honda 663020- best commercial lawn mower for residential use
Quick Features
Power source Gas powered
Cutting Width 21 inches
Mower weight 92 pounds
7-position cutting height adjustments
A powerful lawn mower with a simple and reliable design, this Honda lawn master is one of its kind. Equipped with a four stroke 166 cc Honda GCV170 engine, this self propelled gas powered commercial lawn mower transfers enough torque down to the dual cutting blades. You can easily adjust the durable deck to as high as 4 inches and as low as 1 inch.
The double blade creates four distinct cutting surfaces that help improve the harvest rate. Also, it helps to decrease vibration, which is not available with single cutting blade lawnmowers. Another noteworthy feature is the Smart Drive self propulsion system by Honda to adjust the speed of the machine effortlessly to closely match your walking gait.
The robust 166 CC engine starts with a smooth pulling recoil system. There is an automatic choke for quick startup. When it comes to mowing, the dual cutting blades are ideal for harvesting grass clippings. The mower comes with five adjustable positions for your comfort. Being a 3-in-1 system, it offers mulch, bagging, and discharging functions.
Thanks to the convenient 1.9 bushel cloth bagger, you can add nitrogen to the composite pile and side dress garden plants. The handlebar has a rubberized grip for additional comfort and prevents slipping with sweaty palms. Overall, this Honda commercial lawn mower is a perfect choice for those who are looking for ease of use but don't want to compromise on cutting performance.
Pros
Variable speed self-propulsion technology
Two cutting blades for maximum harvest
Dual-Lever Height Adjustment System
Automatic Choke system
Three years warranty
Cons
Blades might be hard to sharpen at home
5. Greenworks Pro MO80L410- best commercial lawn mower for hills
Quick Features
Power source Battery powered
Cutting Width 21 inches
Mower weight 64.2 pounds
7-position single-handle height adjustment
A mower with versatile features, the Greenworks Pro MO80L410 offers great performance with its 21 inches cutting deck. The compact-sized machine is convenient to assemble and operate. All you need is to connect the handle to the lawn mower and start cutting grass. The 80V self propelled mower offers enough power for 45 minutes. All you need is to charge the 4.0Ah battery. However, the run time varies on the grass type and operation technique.
Thanks to 21 inches durable steel deck, it allows to handle large areas of grass easily and quickly. There is a brushless motor to provide maximum torque, quiet operation, and above all, a longer life. You can easily use the rear wheel drive along with the variable speed control for optimum traction, control, and maneuverability.
One of the appealing features of Pro MO80L410 is its innovative smart cut technology. It not only senses grass but auto adapts power for an ideal cut. The 3 in 1 design allows for mulch, rear bag, and side discharge of the grass clippings. Thanks to the single lever, seven position height adjustment, it offers perfect cuts in all environments.
Featuring 8 inches front and 10 inches rear wheels, the mower can easily tackle small bumps and rough terrains. Also, it can conveniently climb hills with up to 20 degrees incline. Other essential features include a push-button start mechanism, vertical storage, two years battery, and four year tools warranty.
Pros
Variable speed control
3-in-1 design
Push button start
Four years warranty
Innovative smart cut technology
Cons
6. Worx WG779- Best lightweight commercial lawn mower
Quick Features 
Power source Battery powered
Cutting Width 14 inches
Mower weight 29.1 pounds
6-position single-handle height adjustment
Don't have the energy to work with heavy lawn mowers? This Worx WG779 comes packed with perfect mowing functions and a lightweight of only 29 pounds to enjoy reshaping your lawn on a perfect sunny day. Featuring two 20V, 40Ah Li-ion batteries, the mower offers twice the run time with gas like performance. The handy onboard battery charging indicator shows how much charge is remaining before you run out of power.
Equipped with innovative Intellicut technology, the lawn mower can cut thicker grass quickly. All you need is to turn the knob for more torque to cut through thick grass. When you are done with cutting, dial it back to the original position to save the battery. Lightweight and compact, this Worx cordless lawn mower for commercial use is convenient to maneuver and store.
There are height adjustments for your cutting needs and convenience. A single lever helps to set the desired need for mowing. This 2-in-1 commercial lawn mower lets you bag it up and mulch the grass back into the ground. Another useful addition is the plastic-topped collection bag with a capacity of .85 bushels. You can check the full bag indicator to know when is a good time to empty out.
Assembling the mower takes only five minutes without using any tools. I am in love with the super quiet operation performance that keeps you focused on lawn maintenance. There is a single push button to start the machine. Despite the compact size, Worx WG779 is an ideal lawn mower that can plow through thick grass.
Pros
Smart Intellicut technology
Battery charge indicator
Best for thick grass
Ultra quiet performance
Push start button
Cons
7. Snapper XD- best 21 inch commercial lawn mower 
Quick Features
Power source Battery powered
Cutting Width 21 inches
Mower weight 71 pounds
7-position single-handle height adjustment
Offering premium features like a dual battery powerhead, smart load sensing technology, automatic drive system, and Stephens, the Snapper XD commercial lawn mower can make your lawn care effortless. The first thing we noticed is the innovative StepSense that matches the pace of the user. It helps to focus on the moving tasks at hand instead of changing the speed manually.
The dual battery powerhead has two powerful lithium-ion batteries giving operators a long run of up to 60 minutes to aid power through thick grass. However, the run time, output capacity, and charge time may be affected by conditions. Thanks to the seven height cutting adjustments, you can easily adjust the mower according to your mowing needs. All you need is to use the single level to adjust the cutting width.
Offering 2776 RPM, the 21 inches blade combined with 1500 watts Briggs and Stratton brushless motor to provide powerful cutting performance. The lightweight design helps in convenient maneuverability, and the self propulsion system makes up hill mowing effortless. You will love the durable steel deck throughout the mowing season.
This best commercial lawn mower has a simple push start button and 3-in-1 design, including bagging, mulching, and side ejecting. The folding handle helps to save up to 70 percent of space for convenient storage. The 1.7 bushel bagger collects grass clippings up to 2.1 cubic feet, which makes your job quicker and easier. Snapper is offering five years warranty for the Snapper XD 82V MAX Step Sense Cordless lawn mower.
Pros
Stephens Automatic Drive System
Push button starting
Solid cutting power
Intelligent load-sensing technology
Five years warranty
Cons
8. Greenworks MO48L2211- best small commercial lawn mower
Quick Features
Power source Battery powered
Cutting Width 17 inches
Mower weight 48.9 pounds
6-position single-handle height adjustment
A powerful lawn mower for commercial use that runs on a 48V battery, Greenworks MO48L2211 comes with a Trubrushless mower for superior mowing performance. The average runtime of the machine is up to 45 minutes. One great feature of the motor is that it provides more torque, ultra-quiet operation, and longer life.
Equipped with 17 inches lightweight rust resistant deck, it offers convenient maneuverability. Thanks to the single button height adjustment function, you can easily use six position height adjusts for different cutting needs, including 1-1/4 inches to 3-3/8 inches. The collapsible handles make storage easy in small garages.
When it comes to maneuverability, the front 7 inches and rear 8 inches' durable wheels help to move the mower around the big lawns. The 2-in-1 design of the Greenworks MO48L2211 allows mulching and rear bagging. One standout feature for long use is the cushioned over-mold grip that offers superior comfort and control.
To be honest, I was worried about the battery-powered electric mower's performance on thicker parts of the lawn, but this mower powered right through them flawlessly. Overall the lawn mower produced reduced noises with minimal vibrations. If you are not satisfied with the performance, Greenworks is offering three years limited warranty for their tools.
Pros
Lightweight and rust-resistant deck
Single button height adjustment
Dual battery system
Push button start
Ultra-quiet operation
Cons
9. Honda HRX217K5VKA- best self propelled commercial lawn mower
Quick Features
Power source Gas powered
Cutting Width 21 inches
Mower weight 108 pounds
6-position single-handle height adjustment
From VersaMow system to NeXite deck material, Honda HRX217K5VKA comes packed with versatile features. Thanks to the GCV200 engine by Honda, this powerful commercial lawn mower can cut through thick grass like a knife on butter. Featuring 4 in 1 system, Honda HRX217K5VKA allows mulch, bag, discharge, and shred clippings.
One unique feature is the VersaMow system which allows combining bagging and mulching. The twin blade system possesses four cutting surfaces for efficient ultra-fine clipping performance. There is no push start button like gas powered lawn mowers, and you have to pull start it. Both front and back wheels make maneuverability quick and easy.
The large select drive knob is located at the center of the handlebar, which helps to choose precisely the self to propel the pace of the mower. You can choose from different speeds between low and high. The next deck is tough and durable to withstand different weather conditions. The best part is it is rust resistant, and if you hit a rock, curb, or any other hard object, the deck is not going to dent or crack.
Loud noise is one annoying feature most people suffer with a gas lawn mower. However, Honda HRX217K5VKA doesn't produce any loud noise and keeps your ears torture free. This lawn mower also has a rear wheel drive mechanism to ensure the user won't lose traction. Honda is offering three years warranty with a bottle of oil to get started. Don't forget to sharpen the blades occasionally for the best cutting performance.
Pros
Rugged NeXite cutting deck
Micro Cut twin blades for precise cutting
4-in-1 cutting options
Wide Bagging System
Easy to start
Cons
Deck height hard to adjust
10. BLACK+DECKER B08W8L3V3R- Best Gas powered commercial lawn mower
Quick Features
Power source Gas powered
Cutting Width 21 inches
Mower weight 62.9 pounds
6-position single-handle height adjustment
A brand known for producing high end power tools, BLACK+DECKER lawn mowers are the top choice of professional gardeners. Equipped with six different height settings, the dual lever height adjuster allows lighting trim and full cut grass according to your lawn needs. The push lawn mower gas has a side discharge and mulching functions. An auto choke function makes start up easy and quick.
Featuring a 140cc reliable engine, it comes with a recoil start and primer. The 21 inches steel cutting deck can help to trim the lawn as fast as possible. The best thing about the ultra sharp blade is that it can mow wide areas of grass with fewer passes. Additionally, there is a fuel filter added to the mower for improved performance.
There are durable 7 inches front and 8 inches rear wheels made with bar treading to effortlessly drive the lawn mower through hard or loose soil. One of the best features of this best commercial lawn mower is its durable build quality. Combined with a lightweight; the steel deck and reliable material body, this lawn mower can last for a long time with proper maintenance.
Overall, the lawn mower is easy to assemble. There is a free bottle added to the package to get things started. All you need is to change the oil from time to time to keep the B08W8L3V3R in perfect performing condition. Last but not least, BLACK+DECKER is offering three years warranty for the commercial lawn mower.
Pros
Dual-lever height adjuster
2-in-1 cutting deck
Automatic operation mode
Forged steel crankshaft
Easy to assemble and maneuver
Cons
How to find the right commercial lawn mower- The buying guide
Before you make a decision, it is essential to consider the main features of a commercial lawn mower. Take a look at the following aspects that can help to choose the right lawn mower for your needs.
1. Walk or ride?
Lawn mowers are available in two main types, including walk behind and riding lawn mowers. So, how can you choose a perfect match for your needs? If you have to cover a ¼ acre or more area, riding a lawn mower is best for you. If the mowing area is less than ¼ acres, you can go with the walk behind the lawn mower.
One acre= 43560 square feet
¼ acre= 10890 square feet
If you have a lawn of about ¼ to 2 acres, residential duty zero turn mowers, light duty lawn tractors, and rear engine riding mowers are best for you. However, if you are aiming for more than 2 acres, a commercial duty zero turn mower is an ideal match for your needs.
2. Functions
A lawn mower can mulch clippings, bag them or discharge them to the side or rear.
Two function mowers can mulch and bag the grass. Mulching is great for lawns as it returns nitrogen rich grass clippings to the ground, but it doesn't work well for tall grass conditions in the spring season, early fall, or early summer when your lawn bounces back from summer stress.
On the other hand, three function lawn mower bags, mulches, and side discharge the grass. One major benefit of side discharging is that it is useful for utility mowing. It also aids if your lawn gets away from you and you want to set the lawn mower deck to its full height to take grass down in stages.
3. Gas Engines
A gas engine size runs from 140 cc to 190 cc. A larger engine produces more torque and may stall in tall grass at the starting and end of the season. Such engines help drive self propelled mowers more efficiently uphill.
From expensive to low price mowers, engines can be traditional side valve designs, overhead cam, or overhead valves. High-priced engines offer improved durability, less oil consumption, and reduced noise.
4. Deck size
Choosing the lawn mower with the right deck size matters a lot for best performance. Generally, the large lawn needs a wide cutting deck, and small to medium lawns are good to go with medium sized cutting decks. Deck width determines how fast a user can mower the lawn.
Here is a simple way to determine the deck size for your lawn.
| | | |
| --- | --- | --- |
| Lawn Size   |   Type of lawn mower   | Deck Size |
| 4 acres or more | Zero turn lawn mower |  60 inches to 72 inches |
| 3 to 4 acres | Zero-turn, riding lawn mower | 42 inches to 54 inches |
| 1 to 3 acres |  Zero-turn, riding lawn mower | 36 inches to 42 inches |
| Less than 1 acre | self propelled walk behind, push lawn mower | 18 inches to 36 inches |
5. Deck levers
Deck levers are available in groups of one, two, or four. If you are looking for the most convenient, one lever is best for you. However, it comes with some linkage that adds weight and should be lubricated for proper working.
Two levers are a decent choice for those who are looking for between one and four levers. Such mowers feature more linkage compared to four lever lawn mowers, but it is convenient to get the height right.
The best one is four levers with ultra convenience and less linkage.
6. Drive
You can categorize the mower wheels into three types.
Front wheel drive is ideal for level ground with frequent obstacles. It helps to push down on the handle and reduce traction on the front wheels. It also pivots into and out of the corners.
On the other hand, rear wheel drive is great for uphill mowing and side hill mowing. The type of drive works best here as when a user pushes down on the handle while going up a hill, the mower front tires won't loose traction.
Most lawn mowers have all wheel drive which is a perfect match for homeowners to cut across washboard surfaces, steep uphill, side hill mowing, and downhill mowing.
7. Wheels
Wheels are important for convenient maneuverability. Typically, the rear wheels of a walk mower are larger than the front wheels. This increased diameter helps to navigate the mower easily around the lawn.
Ball bearing wheels are ultra-convenient to push compared to bushing type wheels. These wheels are an excellent choice for larger yards, difficult terrains, or if you are clipping mixed with mulching leaves or hauling around a bag of clippings.
8. Gas lawn mower vs. battery powered lawn mower
Most people don't know the difference between gas and battery powered lawn mowers and therefore end up choosing the wrong one for their cutting needs. Here is a brief comparison between gas and battery powered lawn mowers.
8.1. Battery powered lawn mowers
Batter powered or cordless lawn mowers are popular for three prime reasons including convenience, low noise, and emissions. A battery powered lawn mower runs super quietly as compared to gas mowers. A sound test proved that battery powered lawn mowers produce from 74 to 88 dB, whereas gas mowers hit as high as 94 dB.
Another benefit of battery powered lawn mowers is their emission. When it comes to direct emissions, you won't find any. However, indirectly there are few that come from areas where you get power to recharge the mower batteries.
Convenience is the top priority of every user. All you need is to grab the charged batteries, insert them and start mowing. You don't need to mix the oil or gas, no choking, no fuel stabilizer to worry about, no pull starting, no carburetor problems, and no winterizing.
8.2. Gas Powered Lawnmowers
When it comes to power, gas mowers are ahead of battery powered lawn mowers. Cordless lawn mowers prefer shorter grass, cooler temperature, and dry grass. On the other hand, gas mowers don't care about grass thickness, temperature issues, or grass conditions. These lawn mowers can cut through thicker grass.
Compared to battery powered mowers, gas mowers can run longer, especially in tough cutting conditions. When you run out of gas, you can refill the tank in a few minutes, whereas when battery-powered lawn mower runs out of power, you have to wait for 2-3 hours for battery recharge.
Gas powered lawn mowers are more durable than battery powered lawn mowers. You have to replace the battery every 3 to 5 years, whereas gas-powered mower can last up to 10 years with proper maintenance.
9. Proper Lawnmower care and maintenance
Everyone wants to have an enchanting, well-manicured lawn, but it doesn't happen on its own. You must have a powerful and reliable lawn mower to get the job done. A lawnmower isn't a cheap tool, and you can't afford to replace it every year or so. However, proper lawn mower care and maintenance can help to improve the performance and life of your lawn mower. Here are some useful tips for proper lawn mower care.
10. Hose it down
After using the lawn mower, make sure to spray it with the hose. The water pressure will help to remove the accumulated grass and dirt from the mower. Don't allow such things to sit on the machine, especially on the damp grass. It may lead to rusting issues. Don't use the mower on wet or damp grass.
11. Clean the undercarriage
Remember, the undercarriage of the mower will be covered in grass and debris after mowing. Most people don't clean the undercarriage, which leads to severe issues. You can use the putty knife to pull the grass and other materials gently. Be careful when doing so, as you don't want to damage the gas tank or blade.
Make sure to keep the undercarriage debris free because when excessive dust and debris build up, it will affect the cutting performance of your lawn mower. There are lawn mowers available on the market with hose attachments to automatically distribute water jets throughout the bottom of the mower cutting area.
12. A regular oil change is important.
The engine is the heart of your machine, and without oil, the engine can't work. If you don't change the oil on a regular basis, your lawn mower may not be able to mow properly or stop working in the middle of the season. Lawn mower experts recommend changing the oil after every 25 hours of use. Make sure to calculate the usage hours to change lawn mower oil on time.
13. Proper storage
You have mowed the lawn for the last time before snowfall, and it's time to do some basic maintenance before storing the machine. The case is critical for colder climates. Make sure the lawn mower has less than a half tank of gas left. If you want to train some more, you can run it for some time.
Use metal lubricants like WD-40 or any good one to protect the machine from rusting issues. If the off-season is on the longer side, make sure to add a fuel stabilizer to your mower gas tank. Always store a lawn mower indoors to prevent it from harsh weather effects. In the spring season, gas the lawn mower with fresh fuel, and it will be roaring to go.
[acf field="faqschema"]
Frequently Asked Questions (FAQs)
1. Why are commercial lawn mowers so expensive?
Commercial lawn mowers are expensive because of the smart safety systems, drive systems, engine technologies, and mower deck engagement systems.
2. What is the difference between residential mowers and commercial mowers?
A residential mower can mow 1-2 times per week and runs for six or fewer hours per mow. On the other hand, commercial mowers are manufactured to mow 2-20 times per day or run for 10-12 hours. Commercial mowers offer greater speed, high durability, and increased productivity than residential lawn mowers.
3. What is the ideal speed for a commercial lawn mower?
The mower speed mainly depends on its type. The average speed for a push lawn mower is 3 miles per hour; the lawn tractor is 3 to 5 miles per hour and 7 to 13 miles per hour for commercial lawn mowers.
Final words
Nothing ruins the joy of a warm sunny day like the wrong lawn mower. Choosing the right type of lawn mower can help to cut your lawn a pleasure. Lawn mowers are available in a variety of types, sizes, features, and prices. It depends on you to select the right one to make your lawn beautiful. Don't overwhelm the decision; just note down your needs and budget, analyze available commercial lawn mowers and select the right one for your lawn.