You might be thinking nailing through crown molding is a piece of cake. Take the best nail gun and start nailing; that's it. Technically, you are right, but practically when you are using a typical brad nailer for the job, you will face different issues. The first problem is their bulkier size and heavyweight that cause pain from using it for a long time. The nailer is not convenient to maneuver too. Either the nails will not be completely thrown into the crown molding, or the tool will leave nasty marks on the wood surface.
There is the only solution for all problems, and that is using the best nail guns for crown molding. From fixing doors to subfloors, this highly versatile tool is your best friend. Selected based on their features, performance, build quality, price, and user reviews, we have listed different types of nail guns for crown molding.
Best Nail Guns for Crown Molding – Comparison Table
| | | | | | | |
| --- | --- | --- | --- | --- | --- | --- |
| | | | | | | |
| | Makita AF505N 2" Brad Nailer | | | | | |
| | Freeman P4FRFNCB 4 Piece Framing/Finishing Combo Kit | | | | | |
| | Hitachi NT65M2S 16-Gauge Finish Nailer | | | | | |
| | Senco 4G0001N FinishPro 42XP Nail Gun | | | | | |
| | NEU MASTER NTC0040 Electric Nail Gun | | | | | |
| | DEWALT 20V MAX Cordless Brad Nailer Kit | | | | | |
| | | | | | | |
| | DEWALT (DWFP12231) Finish Nailer Kit | | | | | |
| | Hitachi NT50AE2 Brad Nailer | | | | | |
| | Ryobi P320 Airstrike 18V One+ Brad Nailer | | | | | |
Best Nail Guns for Crown Molding- Top Rated Nail Guns for Every Budget
1. Makita AF505N 2″ Brad Nailer- Best for Crown Molding in Tight Spots
Quick Features
Power source Pneumatic
Gun Weight 2.2 pounds
Gauge 18 inches
3 Years Warranty
One of the top-rated 18 gauge nailers on the market, Makita AF505N offers convenience, precision, and accuracy. The metal body, along with the anti-slip rubberized soft grip, provides maximum comfort to effortlessly drive nails in tight spots. This powerful brad nailer is designed to fire up 18-gauge nails from 5/8 inches to 2 inches. There is a selectable trigger system for switching between the contact and sequence firing modes.
The ideal feature for treating tight spots easily is due to its narrow nose design. Also, the no-mar nose tip protects the surface from dents and stains. The nailer has an adjustable depth dial function to effortlessly adjust the depth for various applications. Also, the tool-free jam release function allows clearing the jammed nails in no time. The magazine can easily load up to 100 nails.
Another handy feature is the dual nail reload indicator window in the magazine to alert you before it runs out of nails. The manufacturer has added a cast and machined nose piece for accurate contact. Additional features include a multi-directional exhaust port, 30 days money-back guarantee and 3 years limited manufacturer warranty, a carrying case, two non-marring nose tips, one safety goggles, and an oil supply.
Pros
Ergonomic and lightweight

Multi-directional 360-degree exhaust

Strong and durable metal body

Anti-slip rubberized grip for a secure hold

Tool-free adjustment and jam release
Cons
No dry fire lockout option
2. Freeman P4FRFNCB 4 Piece Framing/Finishing Combo Kit- Best Nail Gun Combo Kit
Quick Features
Power source Pneumatic 
Gun Weight 6.38 pounds
Gauge 18 inches
7 years warranty
Also known as every contractor's dream, the Freeman P4FERNCB Finishing/Framing Combo Kit comes with four different sized nailers. The most appealing aspect of this combo kit is that from framing to finish, it can cover all the requirements of your project. The Freeman P4FRFNCB combo kit features
PBR32Q 18 Gauge brad nailer

PFR2190 21-Degree Framing Nailer

PST9032Q 18 Gauge Narrow Crown Stapler

PEN1564 15 Gauge 34-degree Angle Finish Nailer
If you don't want to buy the complete kit, you can purchase each nailer separately according to the project requirements. Each nailer has an aluminum cylinder and tools less depth of the drive adjustment mechanism. The framing nailer is best for roof decking, fencing, subfloors, basement remodeling, and pallet building.
Select between the brad nailer or finish nailer for fine finish applications, including crown molding, chair rail, window casings, cabinetry, and baseboards.
On the other hand, a narrow crown stapler works best for picture frames, crafts, decorative trim, cabinet backing, and hobbies.
This nail gun combo kit offers a 7-year limited manufacturer warranty and 90 days wearable parts warranty.
Pros
All nailers feature an adjustable depth and tool-free jam release mechanism

Removable no-mar nose

360-degree adjustable exhaust

Excellent price tag

Comes with a wrench, canvas carry bag, oil, and manual
Cons
Trigger seal may break after several uses
3. Hitachi NT65M2S 16-Gauge Finish Nailer
Quick Features
Power source Pneumatic

Nailer weight 3.7 pounds

Gauge 16 Inches

5 years warranty
This NT6M2(S) finish nailer comes with a non-slip elastomer grip trigger and an ergonomically designed flip actuation switch. It is a perfect choice for crown molding, installing molding, cabinetry, chair rail, and other finish projects. It can facilitate 16 gauge finish nails from 1 inch to 2- ½ inches and is has the Hitachi air duster button to blow away the dust and debris easily to clear the work surface.
It is specially designed to meet the needs of professional trim carpenters and DIY enthusiasts. The compact and lightweight style is ultra-convenient to hold and trim. There is a selective actuation switch that helps to fire contact or sequentially modes depending on the application. It also has a tool-less nose, depth of drive dial, and jam release feature to save both time and energy for optimum productivity.
Its lightweight and well-balanced design help to reduce fatigue, improve maneuverability, and allows working for long sessions easily. To provide better control and accuracy, it comes with an elastomer grip. Other noteworthy features include a no-mar tip, safety glasses, hex bar wrench, a tool fitting, and a carrying case.
Pros
Comfortable elastomer grip

Tool-free depth of drive and jam release

360-degree adjustable exhaust port

Lightweight and well-balanced design

No-mar tip for surface protection
Cons
4. Senco 4G0001N FinishPro 42XP Nail Gun- Most Durable Nail Gun
Quick Features
Power source Pneumatic
Gun weight 9 pounds
Gauge 15 inches
5 years warranty
Offering superb durability and performance, this 15 gauge brad nailer is ideal for a variety of finish and trimming tasks. Featuring an ultra-comfortable grip for convenient handling, this nail gun is crafted with a sturdy internal design along with the magnesium to make it a tough yet lightweight tool. It comes with a well-balanced and ergonomic design that helps to reduce wrist and arm fatigue.
Offering an operating pressure of 70 to 120 PSIG, this best nail gun for crown molding can drive bright and galvanized 15 gauge finish nails from 1-1/4 inches to 2-1/2inches into tough woods such as white oak, which makes it a perfect choice for crown molding, windows casings, chair rails, base molding, and hard and softwood flooring. The dial-in-depth gauge and a variable thumbwheel adjustable depth of drive guarantee precise drive.
The magazine can hold 104 nails. There is an EZ-clear latch for preventing jams and ensures optimum performance. For additional efficiency, the nail gun for crown molding also has misfire resistance and double nailing features. Another excellent feature is Senco's exclusive NeverLube mechanism which is specially designed to prevent the damages and mess created by oil spills. Last but not least, the no-mar pad protects wood from ugly marks.
Pros
Best nail gun for professionals

Thumbwheel adjustable depth-of-drive

Superb durability and superior performance

Ultra-comfortable grip

Double nailing option
Cons
5. NEU MASTER NTC0040 Electric Nail Gun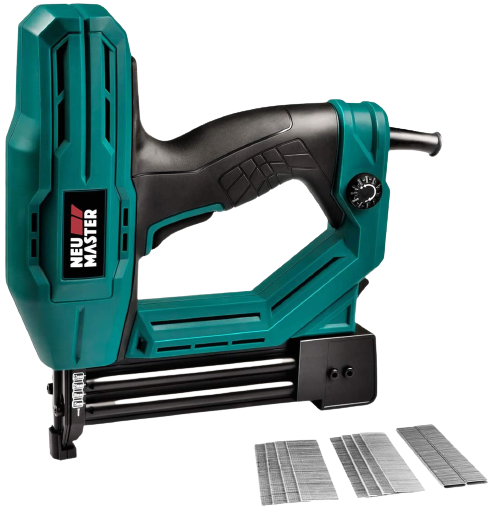 Quick Features
Power source Electric corded
Gun weight 5.2 pounds
Gauge 18 inches
1-year warranty
The NEU MASTER NTC0040 Electric brad nailer and stapler can perfectly drive 18 gauge brad nails to 1- ¼ inches and ¼ inches and crown staples to 1 inch, which makes it one of the best brad nailer for woodworking and a great choice for general repairs, decorative lightweight trim, crown molding, craftwork, and many more. You don't need any compressor for operation, thanks to the AC power source.
There is a non-marrying rubber nose to provide a flawless finish. Equipped with the ergonomic soft-grip handle, it is a great tool to reduce work fatigue. If you are dealing with a light-duty project, there is also an adjustable power function for your convenience. The kit comes with 400pcs ¾ inches brad nails, 40pcs 5/8 inches brad nails, and 200pcs ¾ inches staples.
Featuring a quick-release mechanism, this tool allows getting rid of the jammed nails in no time. The bottom magazine can easily load up to 100 nails/ staples continuous nailing. One unique safety feature is that it can be fired only if the lock is off and your fingers are on the trigger. This feature reduces the risk of accidental firing. Also, the nail gun can drive up to 20 nails/ staples per minute.
Pros
Powerful electric nailer and stapler

Soft and comfortable grip

An adjustable firing power

No-MAR rubber tip

Affordable price
Cons
6. DEWALT 20V MAX Cordless Brad Nailer Kit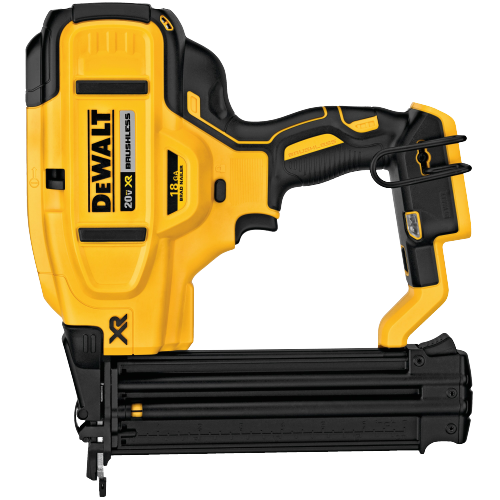 Quick Features
Power source Battery Powered
Gun Weight 5 pounds
Gauge 18 inches
Warranty 3 years
The DeWalt 2v brad nailer features an innovative flywheel technology with a brushless engine that produces high-speed rotations and stores energy from its spin. Equipped with a 20v lithium-ion battery, the nail can easily drive up to 12 nails o a single charge. The tool's free depth of drive adjustment allows driving nails into various materials. You can easily adjust the depth based on the material thickness by turning the wheel-type knob and checking it in the slider indicator.
Another noticeable feature for troubleshooting is the jam release function. All you need is to open the latch with a gentle push and remove the bent pins from the driveway. Also, the convenient stall release lever helps to clear the driver blade effortlessly. Shifting from one mode to another is a breeze, thanks to the tool-free selectable trigger.
The DeWalt tools are equipped with the No-Mar tips and a couple of extras for potential use. One best safety feature is the low nail lockout that prevents empty firing. You can easily check the nails status in the magazine using the window located near the tip. Last but not least, the LED lights at the base of the nailer perfectly illuminate the working area for precise nailing. Besides showing the charging status, its LED indicator shows the power line issue, battery too cold or too hot and replace the pack.
Pros
Well balanced and silent performance

Long battery life

Low Nail Lockout

Easy-To-Use Tool Free Settings

Two LED lights and an indicator
Cons
Hard to read Depth gauge indicator
7. WEN 61721 Brad Nailer
Quick Features
Power Source Pneumatic
Gun Weight 2.7 pounds
Gauge 18 inches
2 years warranty
A compact and affordable brad nailer for DIY enthusiasts and professionals, the WEN 61721 comes with a lightweight cast-aluminum body of only 2.7 lbs combined with the anti-slip rubber grip to make it a perfect tool for any nailing job. It is one of the simplest brad nailer models on the market. Equipped with a 360-degree adjustable air exhaust, the nailer helps to direct the expelled air in a different direction to give you a clear view of the nailing spot.
You can effortlessly drive nails of 18 gauges from ¾ inches to 2-inches. The tool needs 60-115 PSI operating pressure for operation. The spring-loaded magazine can facilitate up to 106 nails and also has a transparent window to check the nail's status when running low. The adjustable depth of the drive wheel allows customizing the depth of the nail according to the project requirements.
Also, there is a quick jam release mechanism to clear jams effortlessly. All you need is to unlatch the front nose to clear the jammed nails. This entry-level brad nailer comes is backed by two years manufacturer warranty. However, you have to purchase an air compressor for brad nailer and hose separately.
Pros
Lightweight and compact

Adjustable depth-of-drive feature

Effortless loading/reloading

A quick jam release mechanism

Easy to use
Cons
No air compressor included
8. DEWALT (DWFP12231) Finish Nailer Kit
Quick Features
Power source Pneumatic
Nailer weight 5.1 pounds
Gauge 18 inches
3 years warranty
Featuring a magnesium body, this highly durable nail gun offers the best nailing performance for a variety of wood projects. DeWalt has equipped this brad nailer with a lifelong maintenance-free motor. The rear exhaust helps to prevent the nailer from damaging your work surface and also keeps external containments away from the working area. The best part about the operation is that it doesn't need any lubrication.
DeWalt's integrated rubber grip offers maximum user comfort and has an adjustable belt hook to keep the tool close to the user. Designed to drive 18 gauge brad nails, the nailer can drive nails from 5/8 inches to 2-inches. Its high capacity side loading magazine design can easily load up to 100 nails. One handy feature of its ultra-lightweight body is that it allows you to work all day long without any fatigue.
A tool-free jam latch system eliminates the hassle of external tools such as Hex or Allen wrench to clear jammed nails. The sequential style trigger needs 70-120 PSI operating pressure for driving nails. There is a low nail indicator window located on the magazine to check the nail status. Other limited features include a no-mar tip and a decent carrying case to store the nails and other accessories.
Pros
Anti-slip rubber grip for maximum comfort and control

Rear exhaust to keep dust away

Lightweight and durable construction

Tool-less jam clearing

Adjustable belt hook
Cons
9. Hitachi NT50AE2 Brad Nailer
Quick Features
Power source Pneumatic
Nailer weight 2.2 pounds
Gauge 18 inches
5 years warranty
Hitachi NT50AE2 is an ideal nail gun to drive 18-gauge nails ranging from 5/8 inches to 2 inches. This pneumatic powered high capacity nailer is best for crown molding, cabinets, picture frames, crafts, and many smaller woodworking jobs. Featuring a selective actuation mechanism, the nailer effectively makes tool-less firing transitions. You can choose between intermitting and continuous firing according to the project. Intermittent firing is best for a high level of accuracy, whereas continuous firing mode is ideal for finish tasks quickly.
A convenient depth of the drive adjustment knob near the nose allows adjusting the nail depth according to the wood surface. Just turn the knob to modify the adjustment without any additional tools. The bottom load magazine can load 100 nails. To check the nail's status, there is a clear indicator for user convenience. Weighing only 2.2 pounds with a soft elastomer grip, the nailer offers ideal comfort and control for day-long jobs.
One of the best features of this nail gun for crown molding is the compact design that allows users to use it in both open and tight spaces. The nail gun needs 70-120 psi operation pressure for operation. Other notable features include a no-mar nose cap and an adjustable, 360-degree exhaust vent.
Pros
Comfortable Elastomer grip

Depth-of-drive adjustment dials

Lightweight aluminum body

360 Degree adjustable exhaust port

Best for long working sessions
Cons
Needs oiling before and after use
10. Ryobi P320 Airstrike 18V One+ Brad Nailer
Quick Features
Power source Battery powered
Nailer weight 6 pounds
Gauge 18 inches
3 years warranty
This easy-to-use, super maneuverable cordless brad nailer offers powerful nailing performance just like pneumatic nailers. It can perfectly drive up to 1700 nails on a single battery charge. The most appealing feature of this cordless crown molding nail gun is its AirStrike technology that offers ultra-quiet nailing performance.
Equipped with a high-power motor, it can drive 18 gauge nails from 5/8 inches to 2 inches. It is an excellent choice for different woodworking projects, including crown molding, door and window casing, cabinetry top, paneling, and hard flooring. The tool-free jam release function easily clears the jams. A removable non-marrying pad on the nose helps to prevent marks from the wood surface.
The dry fire lockout feature is one of the most important functions to keep the tool safe. It kicks into the system when 0-5 nails are left in the magazine. Ryobi has equipped the tool with dual LED lights on both sides that shines directly right on the working spot. Also, they help to show the battery status and tool functioning. Last but not least, the adjustable belt clip is there to keep the nail gun near you during working.
Pros
Features Dry-fire Lockout

Dual depth adjustment and dual firing mode

Tool-free jam clearing

Dual LED lights on each side

Adjustable Belt Clip and no-mar pad
Cons
Need to buy the battery separately
The Buying Guide to Find Right Nail Gun for Crown Molding
Nail guns are used for different tasks and are available in a wide range of styles. Choosing the right one depends on your needs. Here are important factors you should keep in mind before buying the best crown molding nail gun.
There are different types of nail guns created for different purposes. Crown molding needs delicate nail placement; therefore, you should consider a small-scale nail gun. There are three main types of nail guns available on the market.
These types of nail guns use 15-16 gauge nails and are considered the strongest one of all three types. Finish nailers are commonly smaller in size, and they are the best choice for precise nail placements. Crown molding is a bit thick, so you need a slightly larger nail for it.
They are similar to finish nailers and use 18-gauge nails. Best Brad Nailers are powerful, but as compared to finish nailers, they are weak. If you are unable to finish the perfect finish nailer for your tasks, then the best brad nailer is an ideal choice for most projects.
They are the smallest type of nail guns and can shoot little 22-33 gauge nails. Pin nailers are not made for crown molding. The nails are very small and weak to get a strong connection. Still, they are used for putting on finishing touches or dealing with the hard-to-reach areas such as corners. You can also improve the effectiveness of a pin nailer with crown molding glue. You can also have a look at the detailed article on pin nailer vs. brad nailer.
Cordless vs. Pneumatic Nail Guns
The debate between cordless and pneumatic guns is never-ending. Both types of nail guns have their benefits and drawbacks.
Pneumatic nailers are commonly used for nailing and ruing using airpower. They are powerful, ultra-lightweight, and precise, and offer more consistent performance. However, you need a separate air compressor to work with these nail guns.
On the other hand, cordless nails guns are electric and operate on batteries. They are best known for convenient use and effortless portability, but they are less consistent and powerful as compared to pneumatic nail guns. Another popular benefit of cordless bard nailers is their free movement and allows work without jam failing and mechanical issues. However, you may need to purchase a separate battery and charger, which makes them an expensive choice.
The third type is gas-powered nail guns, but they are not familiar with finishing nailer models. They use fuel and oil for the operation which is a bit expensive and, above all, creates a mess. They may create nasty odors, which is not ideal for inside workers.
Installing crown models may take some time. That's you need a nail gun with lightweight but durable materials. The perfect weight for nail guns for crown molding is about 3-5 pounds.
Don't forget to consider the manufacturing material of the gun. Typically, guns are made with aluminum or magnesium materials which are lightweight and durable. The prime role of manufacturing material is that it helps to reduce the vibrations for precise shots.
Crown molding is commonly installed at the intersection of ceilings and walls. It means you have to place the nails at an angle. The best crown molding nail gun should feature an angled tip that allows to line up the shots as precisely as possible.
An angled nail gun measures between 21-34 degrees. Such an angle allows good enough space to get as close as possible to all corners.
Sometimes, nail guns may get jammed during nailing. The problem occurs when a nail becomes unaligned with the firing chamber and magazine. A high-quality nail gun always has a release valve or panel that allows easy access and clear jams quickly. This useful feature helps to save time and clear jams without removing the magazine.
The two prime adjustments you should consider are exhausts vent and depth of drive. The depth of drive means how deep the gun can drive the nail. Different materials need a different depth of drive to ensure ideal fastening. Make sure to find the tool-less depth of drive adjustment as it helps to make required adjustments without any special tool.
Adjustable exhaust vents help to change the direction air is expelled. The features are very handy, especially when you are working in areas with serious dust or debris.
Maintaining your balance is quite tough, especially when you are working hard to reach corners. That's where you need a strong grip with a comfortable feeling. Make sure to consider the grip that offers a sweat-absorbing feature as it may lead to gun slipping. Don't forget to check the protective guard in a nail gun.
Sequential and Contact Firing
Some crown molding tasks need sequential firing, and others require contact firing. Some projects may need both firing modes.
You can select the gun with the single required mode, but experts recommend choosing the nail gun for crown molding with both features.
If you are looking to perform heavy-duty crown molding projects, you should choose the nail gun that supports 1 or 16 gauge nails. You can also use 18 gauge nails. Keep the nail size in your mind as for crown molding, you need nails with 1-2 inches length.
Make sure you check the warranty policy of the tool. Sometimes, different parts of a nail gun have different warranty coverage. For example, the frame of the gun may have a five-year warranty, but other components and hardware could have two years or fewer warranties.
Best Nail Guns for Crown Molding – FAQs
1. What type of nail gun is best for crown molding?
Although it depends on various factors to choose the nail gun for molding if you are working on heavy-duty projects, it is better to select 15 or 16 gauge nail guns. If you are a DIY lover, a 1-gauge nailer is ideal for you.
2. Is it necessary to use glue after nailing crown molding?
No, it isn't important to use glue after nailing crown molding. You can also use glue before nailing crown moldings. The advantage of adding adhesive is that you need to use fewer nails overall, and it helps to attach the crown molding more strongly. This factor can help to save your efforts and time.
3. What gauge nailer is best for crown molding?
The best gauge nailer for crown molding is 18 inches. Although 16 gauge nails have enough holding power to secure the molding place the nail holes are small to hide. For lightweight and small molding, it is recommended to use an 18GA brad nailer.
Final Words
Nail guns are an excellent addition to a tool arsenal; they not only speed up a task but effectively drive nails into hard-to-reach spots. The best part is they perfectly drive nails without breaking or bending them. There are different types of nail guns available to make your tasks easier for both professionals and DIY enthusiasts. When it comes to crown molding, it is important to consider many important factors to choose the best nail gun for your needs. For instance, experience level, budget, and wood surface help to pick the right nail gun.