Efficient watering management is vital for any gardener looking to maintain a healthy lawn in their homes. Just like a garden hose, which is a long tube with a sprinkler or sprayer at the end, soaker hoses are other look-alikes except for a distinctive difference in their structures. They have tiny pores over the length of the tube from where water seeps through at low pressure. 
A soaker hose is an effective means to get the water right at the roots instead of sprinkling it on the surface from where it is likely to evaporate. If you have a beautiful lawn and love to plant, a soaker hose is an answer to your prayers. 
Below we mention the ten best soaker hoses for your lawn to save yourself the bother and ideally irrigate your plants.
To further assist you in your buying decision, a buyers' guide and FAQs are following. 
Top 10 Best Soaker Hoses For 2021 Comparison Table
| | | | | |
| --- | --- | --- | --- | --- |
| | | | | |
| | | Made up of 65% recycled and reinforced rubber | | |
| | | Made up of 70% recycled rubber and 30% polyethylene | Available as 25 feet in length | |
| | | Made up of heavy-duty, double layer PVC | | |
| | | Made up of strong PVC material | 50-feet long and ½ inch diameter | |
| | | | Available as 10 meters, 15 meters, and 30 meters. | |
| | | Made up of NSF grade polyurethane | Available as 25ft, 50ft, and 100ft | |
| | | | Available in 25ft, 50ft, and 75ft standard sizes | |
| | | Made up of 100% recycled vinyl | Size ranges from 25ft to 75ft | |
| | | Releases around half or one gallon of water each foot | Available as 50", 75" and 100" | |
| | | Made up of heavy-duty woven nylon | ¾ inches wide and 50-feet long | |
Best Soaker Hoses 2021 Reviews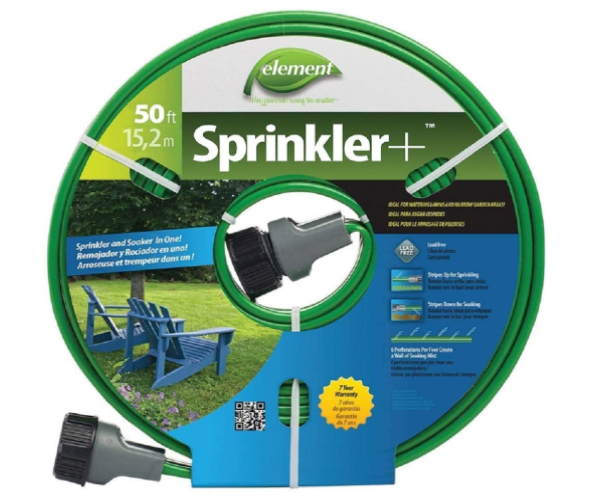 Swan products are apt at innovatively combining a sprinkler system and soaker hose to cater to your either needs. This Element Sprinkler + Soaker hose is 50 feet long with six holes per foot to allow for an easy and uniform sprinkling of walls, the garden, or the lawn. 
It is easy to handle, roll, and unroll according to the need. It is perfect to use for sprinkling water outdoors wherever you want, as the water can flow to the narrowest areas where you cannot normally use sprinklers. 
The two-in-one sprinkler soaker hose has a cap at one end to drain and store the water. It meets lead-free standards under the Federal Safe Drinking Water Act.
Key Features: 
50-feet long 
Made up of 65% recycled and reinforced rubber
Involves brass fittings 
Pros & Cons
Pros
Can be used both as a sprinkler and soaker
Features laser-cut holes
Adjustable spray
Extremely easy to use
Cons
Very lightweight, may require use of rocks to hold up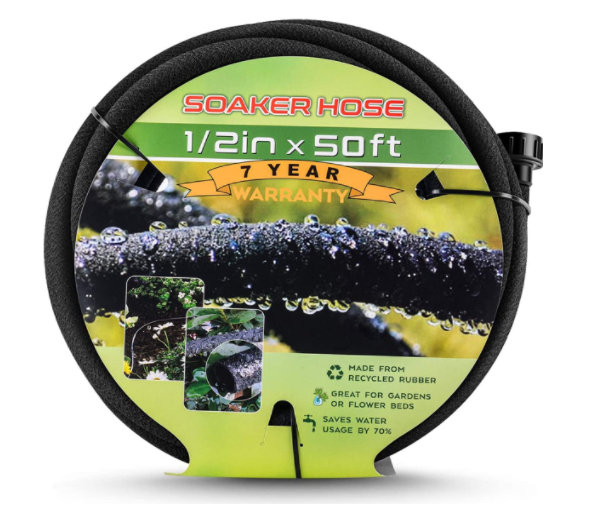 Available as 25 feet in length, the Suneed Soaker hose for your garden is a savior. Just read on, and you will find yourself why we call it one of the best soaker hose.
Despite its shorter tube length as compared to other hoses, it is as effective as any other drip irrigating hose. This is because the tube comes with screw fittings that you can use to connect to either a garden hose or to your lawn's faucet. 
This way, you can irrigate the entire lawn, garden, flowerbed, and anywhere you want the water to be reached by easy connecting and disconnecting without running the risk of leakage. Made up of 70% recycled rubber and 30% polyethylene, it is strong, durable, and sturdy. 
It is lightweight and has ½ inch diameter, which makes it easy to maneuver around plants without dragging it periodically to give access to plants out of reach. The premium manufacturing material avoids kinks.
 Additionally, working with a timer is another excellent feature of this soaker hose. It releases water at a steady and ideal flow, up to 2 gallons at the rate of 2 minutes, which is an impressive feat.
Key Features: 
Made up of 70% recycled rubber and 30% polyethylene
High tensile strength and lightweight 
7-year warranty 
Pros & Cons
Pros
Easy regulation and installation
Saves water up to 70% compared to sprinklers
Pores throughout the length release water steadily, at a pressure of 60 PSI
Built-in hole gasket to filter out debris and sand
Cons
Slightly expensive, compared to others
Made up of heavy-duty PVC liner and fabric cover, this soaker hose by Rocky Mountain Radar is another go-to soaker hose to ease up your plant-watering chore. It is long enough to cover an entire lawn without needing to adjust over and over again.
 The rigid vinyl material is designed to last for a lifetime. As if the PVC is not strong enough construction material, Rocky Mountain's soaker hose is covered with fabric to further increase its strength.
The Rocky Mountain soaker hose is environmentally-friendly and extremely affordable to douse your plants' roots steadily for healthier growth while saving up as much as 70% of water compared to a standard sprinkler system.  
What's more, it has a flat, compact design that is easy to fold up for stowing away. These features are impressive and make it one of the best soaker hoses of 2020. 
Key Features: 
Made up of heavy-duty, double layer PVC
Fabric cover for added strength
50-feet long 
Pros & Cons
Pros
Extremely durable and long-lasting
Affordable price point
Environmentally-friendly
Saves up to 70% of water
Cons
Requires care in setting to avoid kinks
This is another 50-feet long garden soaker hose to add to your list. It is made up of strong PVC material and allows the water to evenly sweat throughout the length of the tube. Unlike other recycled rubber soaker hoses that have uneven permeability, the release of water is regulated by uniformly distanced pores, allowing water to seep through to the base at the roots. 
The soaker is easy to use and roll up for women and children due to its compact size and design. It is durable with high tensile strength and has corrosion-resistant caps. The diameter is standard to fit into all water faucets or hose threads without worrying about it getting rusted.
Key Features: 
50-feet long and ½ inch diameter
Releases 2 gallons per 2 minutes
Made up of strong PVC material
Pros & Cons
Pros
Easy to handle due to compact design
Can sustain extreme weather conditions
Anti-corrosive cap ends
Universal connector feature
Cons
Compared to contemporaries, a shade pricey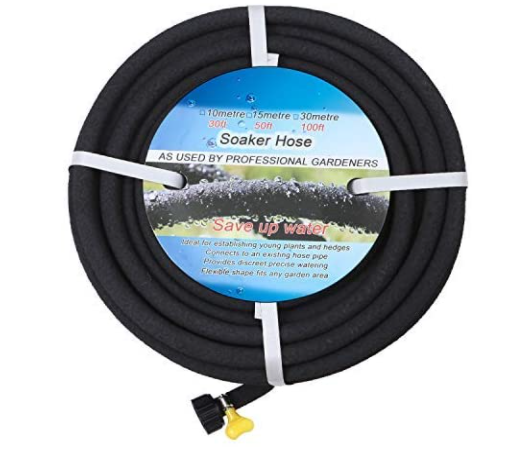 BUYOOKAY soaker hose has three variable lengths to pick from; 30 feet, 50 feet, and 100 feet, to match the area as per your need. 
It features a non-clogging porous design that releases drops of water evenly throughout the length without running the risk of flooded irrigation. The diameter is a standard ½ inches – small and fitting to any faucet or hose.
High tensile strength and lightweight material make it smoother to handle the hose.  Moreover, the eco-friendly characteristic is all the more reason to opt for it and makes Buyookay one of the best soaker hose.
The best-selling feature of the BUYOOKAY Soaker hose is that it comes with four handy standard adaptors that you can use to extend its length or make easy repairs in case of cutting or breaks. What else do you need?
Key Features: 
Available as 10 meters, 15 meters, and 30 meters. 
High tensile strength and lightweight 
100% recycled material
Pros & Cons
Pros
Easy to handle and use
UV-inhibitor additives prevent premature fading
Releases water evenly throughout the tube
Four standard adaptors included
Cons
Does not include an end cap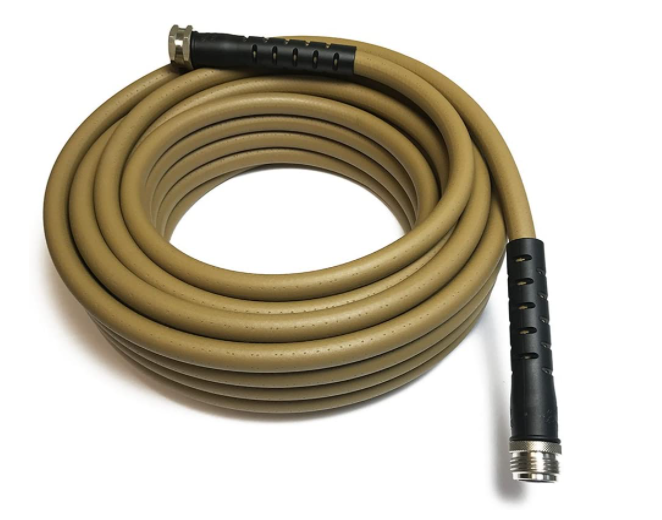 The Water Right's polyurethane soaker hose is one of the best soaker hoses if you are looking for something that can withstand extreme climates, be drinking safe, does not rust, corrode, or kink. Even better, the hose is available in varying lengths.  
In short, the hose has almost everything that one can ask for. The USA-made brand takes claim of its safety for drinking purposes. The material or coating of the hose does not contain nasty chemicals, or BPA or phthalates to tweak with the chemical property of the water inside the hose. 
Moreover, the Water Right soaker hose contains lead-free brass fittings that are durable and long-lasting. Available as 25ft, 50ft, and 100ft, the overall material is UV stabilized FDA and NSF grade polyurethane in a bristle glass color.
Key Features: 
No phthalates, BPA or chemicals in material
Lead-free brass fittings
Made up of NSF grade polyurethane 
Pros & Cons
Pros
Safe for drinking purposes
Extremely strong and durable
Consistent running of water
Does not tarnish or kink
Cons
Not a great water pressure in 50ft and 100ft hose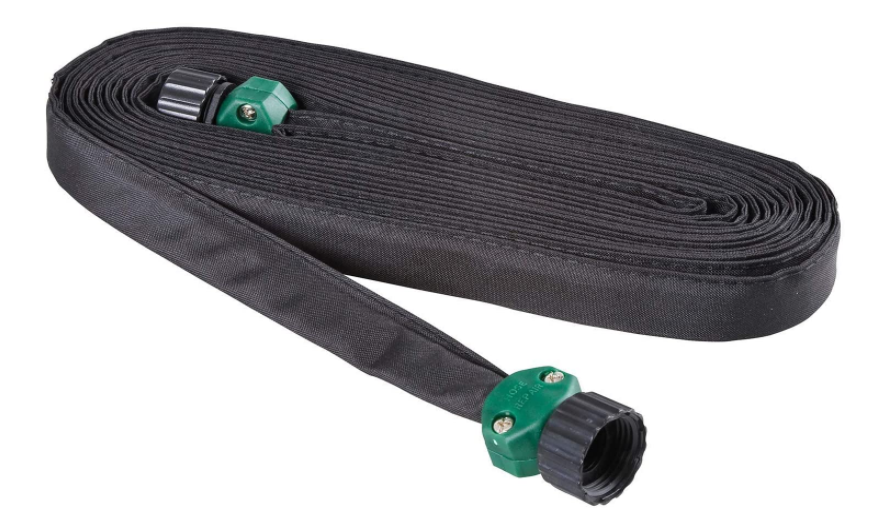 Melnor is a well-known brand producing high-quality and innovative products that help the gardeners at home. The Flat soaker hose manufactured by Melnor is a must-have on your list. To begin with, it is flat, compact, and foldable that takes up minimal storage space while it can be weaved around to your choice. It is extremely versatile in its function; you can place it anywhere you want and even bury it under to get water seeped to the almost-impossible regions! 
It has a gentler washing system – the water trickles instead of spraying or drizzling like in other hoses. Melnor's flat soaker hose also comes with two additional washers for leakage proof. The end caps are rust-resistant to connect multiple hoses to it if you want, without watching out for corrosion. You may, however, would want to stow it away at freezing temperatures.
Key Features: 
Available in 25ft, 50ft, and 75ft standard sizes
Flat, compact design 
2 extra washers and end caps included
Pros & Cons
Pros
Can U-bend to increase versatility
Gentle watering system
Leakage proof
Rust-resistant
Cons
Cannot withstand freezing temperatures
Gilmour Flat weeper soaker hose is another hose that is compact in design to be easily folded when not in use or woven and snaked through the garden or lawn when put to use. It can go around the roots of the plant or be buried under garden mulch easily, as compared to other circular hoses that are unable to blend in with the soil. 
Gilmour soaker hose is made up of recycled vinyl, making it genuinely eco-friendly. It is also protected against UV rays using UV-inhibitor additives so you need not worry about it fading soon or being damaged. It works at an optimum water pressure and can also be connected to a timer to regulate its gentle watering system. Needless to say, the fabric used is non-clogging porous. 
Key Features: 
Size ranges from 25ft to 75ft
UV-resistant fabric 
Made up of 100% recycled vinyl
Pros & Cons
Pros
Easily maneuvered and buried undersoil
Connectable to timers for better regulation
Unclogged, consistent soaking feature
Promotes less water wastage by evaporation
Cons
Needs to be drained during freezing temperatures
Miracle-GRO soaker hose from Swan Products features variable lengths from 50 inches, 75 inches, to 100 inches to cover small and big lawns of your home. It meets the lead-free standard for Federal Safe Drinking Act and is an easy-to-use, water-saving hose that does the work saving up to 70% of water as compared to standard sprinklers. 
It includes a soaker kit, two male and female connectors, and a feeder along with everything you require with this soaker hose. 
Key Features: 
3/8 inch wide holes throughout the hose
Releases around half or one gallon of water each foot 
Available as 50", 75" and 100"
Pros & Cons
Pros
Extremely easy to use and flexible
Generates gentle and soft trickling
System lies directly under soil
Lead-free
Cons
Water source connected to hose should be at the highest point
One-Stop garden seeper soaker hose is made up of heavy-duty nylon material, which is tough, stretchable, and can last for the longest time. This soaker hose is designed to "weep" – meaning it does not sprinkle or trickle the water but produces more of a spurt or slightly heavier sprinkling. This is ideal for the roots and does not damage the delicate upper portion of the plants. 
Only ¾ inches wide and 50 feet long, it lies flat and is easily folded. You can also use miser disks to restrict its water flow up to 75% if you want to save more water than it originally does.
Key Features: 
Made up of heavy-duty woven nylon
"Weeper" soaker hose
¾ inches wide and 50-feet long 
Pros & Cons
Pros
Best for watering roots optimally
Designed to snake through plants easily
Durable and long-lasting
Can be used with or without miser disks to
Cons
Can split during freezing temperatures
Factors to Consider Before Buying Soaker Hose – Buyers Guide
The soaker hose is an important component of your gardening kit. It is a tool designed to promote ideal watering of the roots and relieving you of the bother. 
That is why it is important that you opt for nothing less than the best soaker hose. Amongst almost look-alike soaker hoses, it can be confusing to choose the best one for your lawn. Below are some of the important aspects of a soaker hose that you must be mindful of when making your purchase decision. 
Starting with the first and least critical aspect is the length of the soaker hose. Ideally, it should be sufficient to cover the entire lawn at your home so you can do some math to avoid the hassle. 
Some soaker hoses can be interconnected so you can order more if the length turns out shorter for your need. 
Of course, the material is always crucial to inspect for any product, and more so, for a soaker hose. Generally, most of the hoses are made up of recycled rubber that can withstand impact but are slightly edgy with the hole-permeability. However, that is not always the case. 
Other materials include nylon, vinyl, and polyurethane, where the latter two are food-grade products. This means they ensure they do not use any harmful additives like lead, which can potentially damage the veggies. 
As long as you know what you are spraying the water on, and what your purpose is, you can opt for any material since all of them are mostly lead-free and durable. 
Of course, the holes should be uniformly distributed and small enough to enable little dripping compared to some hoses that spurt or "weeps" water, which can waterlog if not carefully regulated. Generally, opt for the hoses that have the sprinkling or gentle trickling system, and contain small-sized holes for optimal pressure. 
Flexible soaker hoses are a winner. Like a garden hose, you cannot allow the soaker hose to lie around on your lawn, bothering with the picturesque landscape. Just as a garden hose needs to be put away when not in use, you would have to do the same with the soaker hose if it is not nearly aesthetic or doesn't blend in with the setting. 
For some users, this point might be trivial, but flexible soaker hoses, which are generally the flat ones, are far easier to be folded or stored as compared to the rubber ones. Plus, flat and flexible hoses can be woven around the plant roots, buried under garden mulch or soil to bring minimal change to the overall appearance of a lawn. 
That way, you can leave the soaker hose around your lawn and just turn the tap on or off when you want to water the plants.
Frequently Asked Questions (FAQs)
How do I use a soaker hose at home?
Using a soaker hose is quite easy. Just hook it up with a spigot or water faucet in your lawn, weave it through the garden, making sure it is close to the roots and turn it on. The hose will fill up and release water sweats gradually as it reached the optimum pressure. 
If the hose leaks at the faucet, you can connect it with a regular garden hose, and hook that garden hose to the faucet. Moreover, you can also use automatic timers and pressure regulators to further optimize the functioning of your soaker hose. 
How long should I run the soaker hose?
That depends on the moisture of the soil and how wet the roots are. Generally, a normal running time is 30 minutes – but then, you should always do a check-up before turning the tap on. 
Can the hose attach to spigots at my home?
Ideally, soaker hoses are designed to hook with all standard faucets. However, you must check the diameter and relevant specifications before purchasing one. 
Conclusion
Soaker hoses for watering lawns have long-gone replaced the traditional sprinkler systems. These are twice as effective, water-conserving and cuts back largely on the labor. Ideally, the best soaker hose is the one that is long enough to cover the entire lawn subtly by the edges and can also be covered by mulch to remain discreetly out of view.