Featuring deep grill ridges, grill pans offer numerous cooking benefits. From decent grill marks to elegant grill flavor, these pans are commonly used on gas stovetops. They have a large cooking surface and are best for preparing meat and veggies. However, when it comes to using grill pans on a glass stovetop, there are some serious concerns as such stovetops are prone to scratching. Let's try to find out can we use a grill pan on a glass top stove? If yes, how to use a grill pan on a glass top stove.
Can I Use a Grill Pan on a Glass-top Stove?
[acf field="faqschema"]
Yes, you can use a grill pan on a glass stovetop. But there are various factors you should consider before using the grill pan on a glass top stove. Most pans are manufactured with heavy cast iron, and they get extremely hot. Also, they have ridges along with the rough finish on the bottom.
That's why they can leave marks and scratches on your glass cook top. Keep in mind; a glass stovetop can't withstand the high temperature that the grill pan needs to reach to sear the meat.
How to Use a Grill Pan on a Glass Top Stove
Preheat the pan on medium heat for at least 5-6 minutes before grilling. It will help the pan to get hot and retain heat properly.
Make sure to cut the food into thin slices. The technique allows replicating grilling without burning your food.
Take an oiling brush and use it on the food. If you put oil directly on the grill pan, it can lead to burning issues.
Grill your food until it is cooked perfectly.
Before you start grilling on a stovetop, here are important things to consider.
Grill Pan Size
The grill pan size is one of the most important factors. The ideal size should be a few inches wider than your burner. A large grill helps to grill on the entire surface.
However, that's where issues with a glass stovetop begin. These tops have small burners, and you have to wait for the grill pan to reach the searing temperature for steak. A scorching heat leads to smoking problems which may leave nasty marks on the surface of the glass top stove. The head build up on the bottom of the pan damages the stove in the long run. Therefore, it is better to use a small or medium sized grill pan on a glass stove.
Grill Pan Weight
Glass stove tops are manufactured with a weight limit, and using heavy grill pans will surely damage them. So, you have to consider the pan's weight.
Never use cast iron pans, as this is the heaviest material used in grill pans. That's where you need to choose the best cookware for a glass stove. Also, check how to protect the glass top from cast iron.
Also, when you cook chicken or steaks in a pan, they can add extra weight to the pan. Try to find a grill pan with durable handles. If you drop a hot pan on a glass stove, it will surely damage it or leave ugly marks on the surface.
Bottom Surface of Grill Pan
While selecting a grill pan, go with the one featuring a flat bottom surface. Such features are best for distributing even heat. However, most pans have uneven bottom surfaces, which can affect the way you use them on a glass top stove.
Heating may take some time, and when you reach the ideal grilling temperature, you must control the heat for delicious food. If you failed to do so, you would end up with half-cooked uneven cooked food.
Finish of the Grill Pan
The rough finish on an iron grill pan is best to withstand high heat and retain it for some time. But when it comes to glass top stoves, it can damage the surface.
Enameled induction grill pans allow the pan to heat evenly and also retain the high temperature for cooking. Also, a grill pan with porcelain enamel is best for glass stovetops. Such pans don't leave marks or scratches on the glass surface.
Pans You Should Not Use on a Glass Top Stove
Cast Iron Grill Pan
One of the major concerns about cast iron grill pans is their heavyweight. They might be one of the best options for gas stoves but as glass stove tops are delicate, they can get serious damages when subjected to the pressure of such a pan's weight.
Another critical factor is the rough bottom which can scratch the surface from sliding the pan back and forth. In fact, it can leave permanent scratch marks on your glass stove.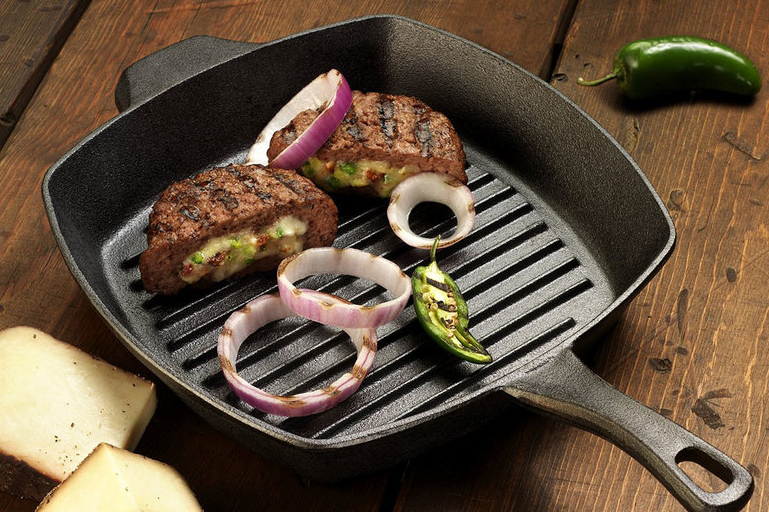 Most people use aluminum foil on the glass top stove to prevent scratches, but still, they can cause scratches by sliding back and forth.
Stoneware and Ceramic Pans
Stone and ceramic pans are also equipped with rough finishes, which are not suitable for glass stovetops.
What Are the Best Pans for a Glass Top Stove?
Here are the best pans for glass top stoves.
Stainless steel grill pans

Titanium grill pans

Griddle pans

Enamel induction grill pan

Stovetop grill pan with non-stick coating
Can I Use a Cast Iron Pan on a Glass Cook Top?
No, you can't use a cast iron pan on a glass cooktop. Their heavyweight and rough bottom can cause nasty scratches to the glass surface. 
Useful Tips to Protect Glass Top Stove
The most appealing factors of a glass top stove are the flat and smooth surface that allows you to clean it easily. So, it is essential to prevent it from damages.
When spills happen, make sure to clean them immediately. If you leave the food or any particles on the glass top, it can be difficult to remove them. When you are cooking sugary substances, move the spills to the cooler part of the top before wiping.
Never use any abrasive cleaner on the glass stovetop. Window cleaners, scour pads, heavy-duty sponges, and metal scrubbers are dangerous for glass surfaces.
Don't place any stirring utensils on a hot cooking surface. The cooked food can be difficult to clean.
Always use the recommended scraper for a glass top stove. Such scrapers are best for removing tough, burned-in food.
Final words
Indeed glass stove tops are delicate, and you have to treat them carefully. These top stoves are easily prone to scratches and damages due to their construction. That's why all grill pans are not ideal for glass tops. Their weight, size, and construction material should be considered before use. Make sure to choose the grill pan with a glass top that is light and easy to hold. Stainless steel and titanium grill pans are best for glass top stoves are they are durable, scratch-resistant, and above all, have a smooth finish to cook perfectly grilled food without damaging your cooktop.