Every kitchen has a variety of cookware made of different materials. Each item of the cookware has different cooking efficiency depending on the meals cooked. A larger variety of meal pots in your kitchen means a longer chance of indecision. Some cookware items are made of single metals while many of them are made from a combination of different metals. Creating a flavorful meal is largely dependent on the right cooking vessel. Out of all the diverse kitchen items, most cooking vessels are made of stainless steel and copper. Copper pans vs. stainless steel cookware are our main question to answer here.
Copper vs stainless steel cookware has always been the talk of the town. Choosing between copper and stainless steel pots and pans is hard as both are culinary favorites. Here, we are listing the pros and cons of both these cooking vessels and let you decide which one is better suited to you.
Copper Pans
Copper pans are popular because of their excellent heat conductivity. It is a bit expensive material but many world-class chefs choose copper for cookware as they find it a more reliable option. Originally copper cookware was constructed with a tin interior to stop food reaction with the metal. These days, the copper cookware is lined with stainless steel for better cookware cleaning. Copper pans are one of the most lauded types of cookware in modern French cuisine certainly making them one of the best cookware for gas stoves. Most of the copper cookware items can be used on gas, electric, and halogen stovetops.
The Pros of Copper Pans
1. Even-Heat Distribution
Copper pans are super heat conductors, a quality hard to find in many cookware materials. Some exquisite delicacies need extreme temperature control to have the desired food consistency. Only copper cookware is the one that can do justice in such a scenario. It can spread heat from the point where it touches the burner to all parts of the pan. Copper is known for its even heat distribution across the cookware's surface that makes temperature control very easy.
2. Durable Material
Copper pans if cared for properly, can last for decades. You can even pass them to your kids and grandkids. You can always polish it with special polishes available to keep it in good condition for a long time.
3. Anti-Microbial Property
Copper is a unique material that is naturally anti-microbial which is another plus point of copper cookware. Compared to any other cookware material, food that comes in contact with copper has a very low chance of getting harmful bacteria. There is also little chance for bacteria to survive on this metal. 
4. Reacts Quickly to Temperature Changes
As mentioned that copper has a great heat distribution quality, it helps to respond quickly to changes in temperature. When you remove the heat source, the copper utensil will quickly cool down. In the same way, when you increase the temperature, it responds quickly by heating up fast. 
The Cons of Copper Pans
1. Expensive Material
As we all know that with great qualities comes great expense. Copper pots and pans are generally expensive that may discourage some customers. The cost further rises as you need to have good care of the copper utensils by properly polishing them to protect the layer that covers them. You also might need it to be re-tinned after every two to three years.
2. Highly Reactive Material
Copper is required to be layered with tin or stainless steel. If not, it can react with acidic foods and produce toxic substances that are harmful to the body. It can also cause acidic foods to have a metallic taste. Copper can also leave gray streaks on foods like eggs or milk sauces. 
3. Requires Extra Maintenance
Copper is susceptible to tarnishing i.e. the loss of its bright exterior color. If you want to retain its appearance and avoid the metallic after-taste, you are required to polish the copper pans periodically. It is not a dishwasher-safe material so you need to hand wash it and perform manual drying to protect spots, discoloration, and corrosion.
Stainless Steel Cookware
Stainless steel is another popular cookware material. It is a combination of two metals i.e. nickel and chromium. The quantity of these metals determines the quality of stainless steel. Stainless steel cookware is very durable so you can use it for long without any damages to the cooking vessels. When it comes to heat conductivity, stainless steel is at the other spectrum of copper. It is considered safe for all kinds of cooking. Let's have a look at its pros and cons….
The Pros of Stainless Steel Cookware
1. Non-Reactive Material
Stainless steel is considered a safe metal for every form of cooking. You don't need to worry about the food taking on a metallic taste. The acidic food will also not react with the stainless steel cookware. 
2. Flavor Preservation
Cooking using stainless steel utensils helps in retaining the food flavor as there isn't metal leaching to the food. Nowadays, stainless steel utensils are coated with nonstick materials that also help to increase the food flavor.
3. Durable Material
Stainless steel is an extremely durable material and holds up well against rust and dents. You can easily wash it in the dishwasher and it can handle going from the stovetop to the refrigerator without any issues. 
4. Beautiful Aesthetics
Stainless steel cookware normally has a great finish and aesthetics. It lets you choose between polished and brushed finishes depending on your aesthetics appeal. The brushed finishes have a more subdued appearance while the polished designs are bright and shiny.
5. PFOA Free
Stainless steel is a universal cookware metal that is free of any PFOA toxic chemicals. It also doesn't have any toxic properties that you associate with copper pans. It means you don't need to worry about the harmful chemicals getting into your foods.
The Cons of Stainless Steel Cookware
1. Poor Heat Distribution
This metal doesn't conduct well as compared to copper. It doesn't deliver equal heat distribution which is why it is seldom used alone in cookware. The poor heat distribution also leads to hot spots on the cooking pan's surface. There is also a chance of food burning if not supervised properly.
2. Food Sticking Issues
Cooking food in stainless steel cookware at a high temperature can lead to food sticking. It also means you have to handle the additional grease and residue. 
3. No Zero-Fat Cooking
Unlike the other nonstick cookware, stainless steel vessels cannot cook without oil. If not, the food will stick on the pot and pans of the vessel. [acf field="faqschema"]
Copper vs. Stainless Steel Cookware – The Main Differences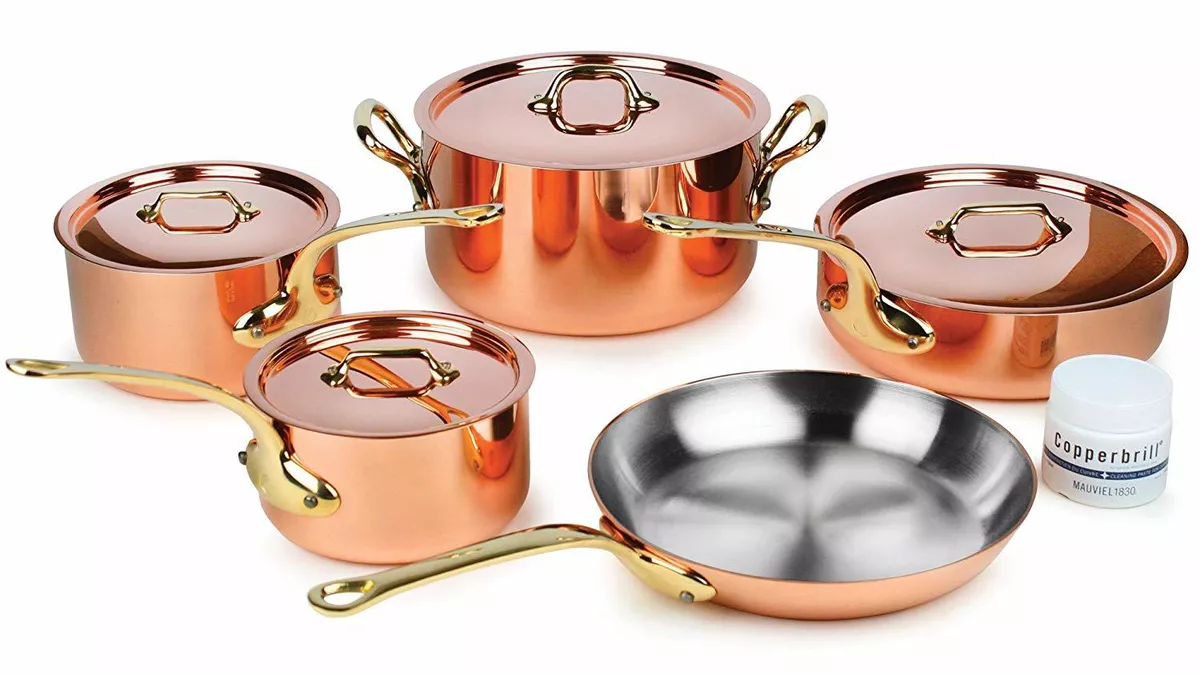 Stainless steel is cheaper than copper pans.

Stainless steel has better durability than copper.

Stainless steel cookware is dishwasher safe while copper is not.

Copper is a great heat conductor, unlike stainless steel.

Copper distributes heat evenly unlike stainless steel cookware.

Stainless steel utensils have better aesthetics than copper utensils.

Copper utensils are preferred by professional French chefs.
The Bottom Line
A comparison between stainless steel cookware and copper pans has been drawn in this article. This comparison shows that both are premium cookware materials. Both cookware with lining provides excellent results. They have their pros and cons so, a good solution is to use a combination of both. Try using copper for delicate foods while using stainless steel cookware for the main course meals and high-heat cooking. Also, take good care of your utensils for their prolonged life.