When you work on household projects, you always need to fasten and hook things together. You need some tools for work on these projects as many delicate situations will arrive. When you have a toolbox in your storage, it helps you in the completion of home improvement and DIY tasks. It also means you are paying attention to using the right type of tool for completing every task at hand. When you are working on home improvement projects, you tend to use tools like a crown stapler and brad nailers. Many people are torn between using a crown stapler vs. brad nailer. 
When you come to a point to choose between crown staplers vs. brad nailers, it depends on the type of project you are working on. It also depends on whether you are looking for a permanent or temporary hold.
Crown Stapler vs. Brad Nailer
Before having a go at both these tools, you need to know that traditionally both narrow crown stapler and brad nailer needs an air compressor for operation. But now, with the emergence of electric and battery-operated brad nailers and crown staplers, this need is getting eliminated. 
1. Crown Stapler Overview
A crown staple is a staple gun that uses staples instead of nails unlike a brad or a framing nailer. It uses staples as indicated by the name to fasten things together. A crown staple is known for providing a sturdy grip and good holding ability. It provides a permanent fastening solution that uses staples with a round or flathead. The "crown" in crown staples refers to the top part of the staple which penetrates the material that is needed to join together.
Crown staples have various sizes in terms of gauge and width of the crown. The holding power of a crown stapler is established through the length and width of the legs combined with the width of the staple crown. Crown widths are referred to as narrow, medium, and wide. 
1.1 Applications of a Crown Stapler
Crown staplers can be used in a variety of applications. They are mainly used in places where the appearance after applying crown staplers doesn't matter as they leave large holes behind. These large holes are a result of a crown of the staple. 
Narrow Crown Staples
When you have trimming, fabric, and light framing jobs at hand, it is recommended to use narrow crown staplers. When you use narrow crown staples for trimming jobs, you don't need to use an adhesive for more holding power. You may have to use putty or a filler as there will be a considerable hole left when you use narrow crown staples. These staples are used for upholstery jobs and fabric staples as well.
It is important to note that narrow crown staples can rip and tear around the penetration point. It may not offer a stronghold compared to the hold provided by an upholstery stapler. They are also used for light framing jobs and won't damage the framing material as well. 
Medium Crowns Staples
Medium crown staplers are a bit larger. They provide a stronger hold but tend to damage the surface of the material because of their size. These staples can be effectively used for applications like subflooring, siding, and plywood sheathing. An advantage of these staples is that the sidings overlap so the holes are automatically covered. 
Wide Crown Staples
Wide crown staples are only applicable for heavy-duty uses. The most common applications for such a stapler are house wrap, truss building, and roofing. It doesn't leave any noticeable hole so, you don't have to conceal the penetration point. 
1.2 Pros and Cons of Crown Stapler
Pros
Can be easily held

It offers high power for applications

It can be used on fabrics

Variety of sizes available for different applications

Good for heavy-duty jobs
Cons
Not aesthetically pleasing

The big hole left behind in some cases

Hard to take them out when required
2. Brad Nailer Overview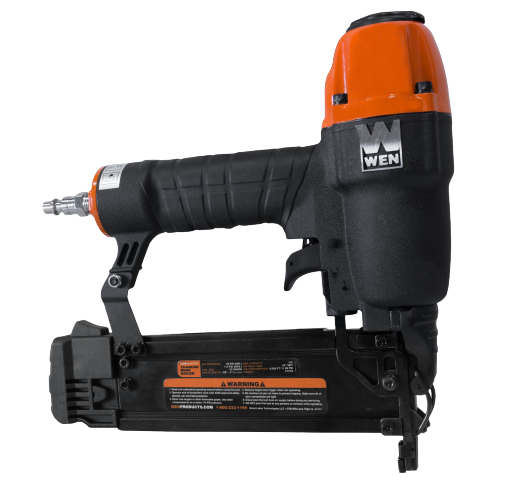 When we consider narrow crown stapler vs. brad nailer, the brad nailer offers a different fastening approach. It is a type of nail gun that uses compressed air for driving brad nails into a wood surface. Brad nails come in multiple gauges and lengths that primarily influence their holding power. Usually, 18-gauge brad nails are used that have a small pinhead. This device leaves a very small hole on the surface that doesn't generally need putty to cover it. Brad nails are very difficult to remove, you need to separate the wood pieces and then pull them out individually. It means you cannot use this tool as a temporary fastener. 
2.1 Applications of a Brad Nailer
Brad nailers also have a wide range of applications but they can't be used for heavy-duty. The primary purpose of a brad nailer is to fasten things together with minimal damage to the face of materials. These machines save you from patching work when utilizing other common tools. The brad nailer is a very easy-to-use tool especially if you pick a newer version of it that won't require compressed air. Here are a few important considerations for using brad nailers:
Brads don't have the holding power of a finish nailer or a stapler.

Adhesives must be used in most applications to reinforce the hold of brads.

Brad nails don't have a great deal of strength so don't use them in weight-bearing applications.
2.2 Pros and Cons of Brad Nailer
Pros
Leave a clean finish

Recommended for light-duty work

Perfect for delicate trims and fragile materials

Easy and straightforward to use

No hassle of nail holes
Cons
Cannot support large boards and heavy wood

No good for tight corners and spaces

Weaker than crown staples