Partner training is one of the most fun activities in martial arts. However, the level of ease and effectiveness is determined by the nature of the pad you are using for your defense. Heavy bags are also great for your training, but the mitts and Thai pads will give you next-level expertise combined with handiness. And these are beneficial for both parties involved in training. 
But you must be wondering which pads are advantageous and will be the right choice for you as a beginner in partner training. This depends on several factors. In some aspects, focus mitts are better, and in some features, Thai pads remain favorable for you. The holder is different in both of them. So it is dependent on the martial artist's preference. Upon reading a small breakdown on both types of equipment, you can get a clearer mind. 
Focus Mitts and Their Advantages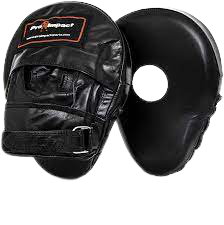 Focus mitts are usually small gloves that fit your hands perfectly for boxing and martial art training. These were not that much popular in early times but got a great deal of popularity when Bruce Lee got them for his training in martial arts. Since then, inimitable focus mitts have become an integral part of the kit for boxers. 
This was not the only reason behind their popularity, but these gloves have a great variety of advantage that makes them a must to buy thing for boxers. At the top of all is their portability. Focus mitts are usually smaller and slim than Thai pads; keeping this in mind, you can consider these mitts. 
Secondly, mitts were solely designed for boxing so that you can use them as one of the most reliable working punches. Also, mitts contain a curve in them, making them a safer object to take and bear punches. Moreover, this curve also makes it easier for the striking person to take care of his wrist and knuckles. 
Disadvantages of Focus Mitts
No doubt, focus mitts are good to take punches, but unluckily these may not be that much effective while taking the kicks as the built is not that robust and thick to give you protection against energetic kicks.
The boxers usually report that mitts start opening up from the cuts after continuous usage for some time. And the size of the mitts is not large enough to ensure the complete safety of the holder. Unfortunate may occurs, and the punch may hit the holder crossing the smaller mitt.
Thai Pads and Their Advantages
Thai pads hold a specific spot in every Muay Thai trainer's kit. This is a developmental tool used for martial training and promise to give complete protection against kicks and punches. A strong pad is held with the belts to be in place with the wrist of the holders. There is no reliable information known about the Thai pads, but it is obvious that its origin is older than the focus mitts. The most significant advantage of the Thai pads is that they are a bit strong and sturdy in construction compared to focus mitts. It allows them to act as a barrier against all stunts of martial arts.
Their size is best to minimize the chance of missing a kick in Thai pads. And holder's safety is never compromised with the Thai pads. 
Disadvantages of Thai pads
The only notice-worthy disadvantage of the Thai pads is that they are quite bulky. And this makes them difficult to take along in your bag. And while strapping them on, you may have to face a tough time. And if you are physically weak, then the weight of Thai pads compromises your training. 
Also, Thai pads lack curves to damage your wrist joints during energetic punches or kicks. So, you have to be careful if you are wearing them on. 
Final Verdict
No doubt, the right attitude is essential than the right equipment. But still, we cannot compromise on the quality and aptness of the equipment. If you don't have any issue regarding the cost, it is recommended to get both of the pads; the focus mitts and Thai pads. But if you can afford them both, then choose them wisely depending upon the nature of your training. 
If you are a Muay Thai practitioner, then Thai pads are the right choice for you. And if you are practicing punching martial arts, then go for the focus mitts.