Are you confused between the induction cooktop and the typical electric cooktop? The issue is common with the people who just moved into the new house. Both types of cooktops have a similar appearance, but the features are totally different from each other. Induction cooktops are entirely different from traditional cooktops. If you are looking for how do I know if I have an induction cooktop answer, this article will surely help you. Before we probe into the answer, it is essential to know what an induction cooktop is.
Induction Cooktop vs Conventional Cooktop
There is a prominent difference between induction and conventional cooktops. As compared to other cooktops, this type of cooktop heats the pan directly. An induction cooktop uses magnets to do this. A magnetic field is created under the cooktop's surface, which is activated when a pan is placed on the cooktop. As soon as the pan is placed, the cooktop starts to heat up. Remember, if the pan is not magnetic, it will not start heating up.
How Do I Know If I Have an Induction Cooktop?
[acf field="faqschema"]
The simple way to tell that you have an induction hot is to check it only works with magnetic pans. If the cooktop works with magnetic pans, it means you have an induction cooktop. Regular electric cooktop works with all kinds of pans.
If you have moved to a new home and the cooktop doesn't appear to be working, make sure that the pan is magnetic. Take a fridge magnet and test the pan bottom if the magnet doesn't stick to it; it simply means that your pan is not suitable for an induction cooktop.
There may be a fault in your induction cooktop. It is better to check for the fault before buying a new set of pans for the induction cooktop.
What Does an Induction Cooktop Look Like?
Featuring a smooth black surface, an induction cooktop looks like a typical ceramic glass electric cooktop. However, it is difficult to differentiate between induction and non-induction cooktops just by looking at them.
Feature of Induction Cooktops
Here are the advantages and disadvantages of induction cooktops.
Induction Cooktop Pros
One of the best benefits of induction cooktops is their responsiveness. When you turn the heat down on your induction cooktop, the pan quickly cools down as the heat is directly in the pan.
Induction cooktops are pretty fast as they transfer heat to the pan rather than to the ring. These cooktops heat up rapidly and evenly boil a small amount of water as compared to kettles.
Induction cooktops have a flat design, and they cool down quickly.  It is effortless to clean these cooktops as compared to electric and gas cooktops.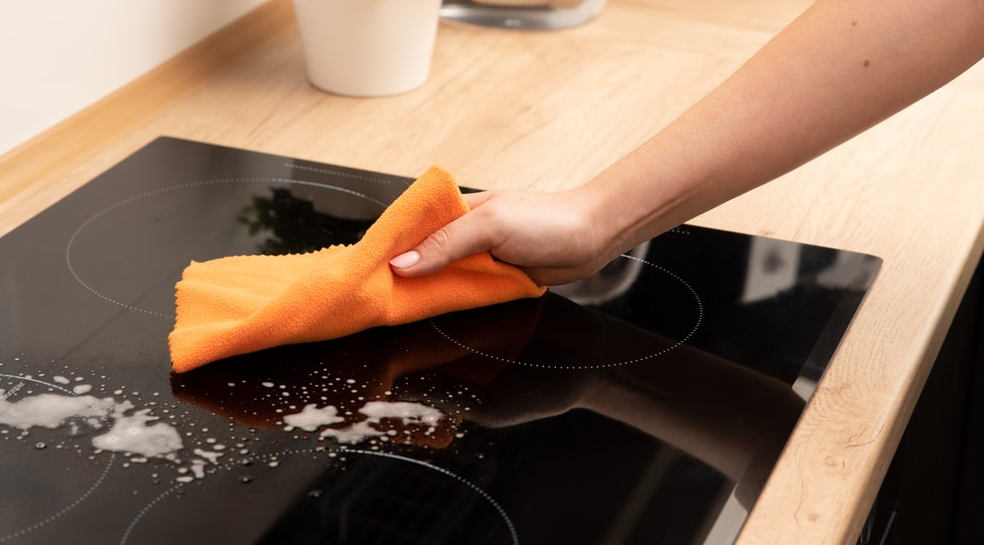 All you need is to buy the right cookware for induction cooktops, and using it is a fun and straightforward process.
There are induction cooktops available on the market that can heat up the whole surface. These cooktops allow to place maximum pans on the surface and also helps to prepare meals for a large family.
When it comes to energy transfer, induction cooktops are better than gas cooktops. An induction cooktop doesn't waste any energy and helps you to save money. On the other hand, gas cooktops heat up the whole kitchen and, as a result, waste both energy and money. You can use any ring for any size of cookware with an induction cooktop and only get the heat you need.
Induction Cooktop Cons
There are the following drawbacks of induction cooktops.
Commonly, an induction cooktop needs a professional electrician to fit them as there are various special requirements. You have to pay extra for fitting services.
When you move to a new house with an induction cooktop, it is vital to buy a new pan set for it. If you already have magnetic pans, don't buy the new one. Just make sure to check the magnet before using them on induction cooktops.
The pots and pans of induction cooktops are expensive. However, some manufacturers offer free pans with cooktops on New Year deals. All you need is to keep an eye on such deals to save some money.
An induction is expensive than other types of cooktops available on the market. This may be due to the modern cooking technique offered by this cooktop.
Final Words
Induction cooktops are indeed one of the best and most convenient ways to cook foods. However, make sure to use the right cookware with these cooktops as they work only with magnetic pots and pans. Don't forget to check the magnetic feature of the cookware before using it on induction cooktops.