How Should Basketball Shoes Fit: Finding new and appropriate basketball shoes is not as easy as one might think. They are indeed an essential piece of sports gear for professional basketball players. The appropriate basketball shoes have a great impact on the player's performance on the basketball court. These days, basketball shoes are often made with synthetic mesh material that is durable, supportive, lightweight, and breathable. It should feel like an extension of your feet so that your mind is on the game and not on your shoes.
Yes, it is exciting to get a new pair of basketball shoes, it is a challenging task to find that fits correctly. There is a lot to finding a new pair of kicks than picking out a sharp-looking one. If the new pair of shoes you have are getting serious playing time, you might want to consider some important things in such a scenario.
Are Basketball Shoes True to Size?
Generally, they are true to size but that doesn't mean they are the right fit for you. Some of them can affect your comfort and fit even if they are true to size. These shoes have a wide base that is good for people with wide feet. It is recommended to buy a half large size from your true fit size. This way you get a small clearance for your toes.
Why Finding a Perfect Fit is Important?
For a basketball player, or even if one is using basketball shoes for volleyball the shoes are the only piece of equipment you have, so it is important that they fit correctly. A sneaker with perfect fitting will impart you the required confidence to play the game. Here are some of the reasons to find a sneaker with perfect fitting.
1. Support
Proper shoe support is necessary in the case of a basketball shoe. If the required support is not there, chances are you will hurt your feet and ankles with a high risk of injuries that will keep you off the court. Proper shoe support will protect your feet, ankles, and lower leg area.
2. Comfort
You will wear the basketball shoes for at least a couple of hours during practice or a game. Evidently, it becomes pertinent that you have shoes that are comfortable. Playing the game in shoes that hurt is not fun and very difficult. It affects your concentration as well when you are constantly thinking about your tired aching feet while playing. 
3. Performance
As a professional basketball player, your main goal is to become the best in the business. You always look for an edge while playing the sport and use it to your advantage. Finding the right one for your body and game definitely balances the equation. A good fitting shoe will allow you to run, cut, jump, and stop at your will with ease.
What to Look for in Search of a Perfect Fit?
There are some things needed to consider while searching for the right fit for you. Don't go for a shoe because of its brand, look, or popularity. Consider the type of player you are what will be the right fit for your feet. Some shoes allow for easy movements and quick cuts while others are for extra support. When trying on the shoes, make sure to put them fully on your feet. Now, let's have a look at few things you should consider when you try a particular pair of shoes…
1. Arch Support
Arch support is an important factor in most shoes. You don't want the arch support to be too extreme as it can cause pain and discomfort. The arch of the shoe should match with the arch of your feet when you stand flat-footed. Adequate support is good but avoids ones that feel like they have a lump in the side of your foot. If it does feel like it, it means the shoes are a bit narrow or the arch support is a bit too much.
2. Ankle Support
Ankle injuries are one of the most common injuries in any professional sport. This is why athletes always look for shoes with proper ankle support. It is better to have the upper part of the shoe fit firmly around your ankle. You can also tight it with your laces. Don't get it too tight as it will have an effect on the circulation of blood through your feet. Keep it snug enough to have your feet in place. Also, don't have any part of the sneaker cut into your lower leg, it will get extremely uncomfortable and painful.
3. Vamp
The vamp is the upper portion of your basketball shoe that covers the top of your feet. A perfect vamp is one with the ability to wrap snuggly around the top of your feet without producing any irritation. If the vamp is too tight, it can force the tongue of your shoe to dig into your feet. The vamp should be able to flex with your feet while also providing adequate support to them. 
4. Broad Toe Box
The front part of the shoe is the toe box where your toes rest. You want your toes to be relaxed rather than crammed in or crunched together. With the broad toe box, you can move your toes freely while having adequate support for your feet. The toe box must provide some width between your big toe and the tip of the shoe when standing. If it allows too much space it can get caught on the ground. 
5. Heel Counter
The heel counter is the source of support to your heels and keeps your heels from sliding in any direction. The heel counter is also a source of comfort and cushion for your heels. You don't want the heel counter to be raised or elevated as it can cause problems. The best heel counter is the one that makes your heels feel like gentle cradles. 
How Tight Should I Tie my Basketball Shoes?
Basketball shoes that are loosely laced not only look sloppy but also can be a source of an accident. They should be comfortably tight for ample support. You don't want to be benched because you tripped over shoelaces. Here are some lacing methods that could help your sort out the lacing issues…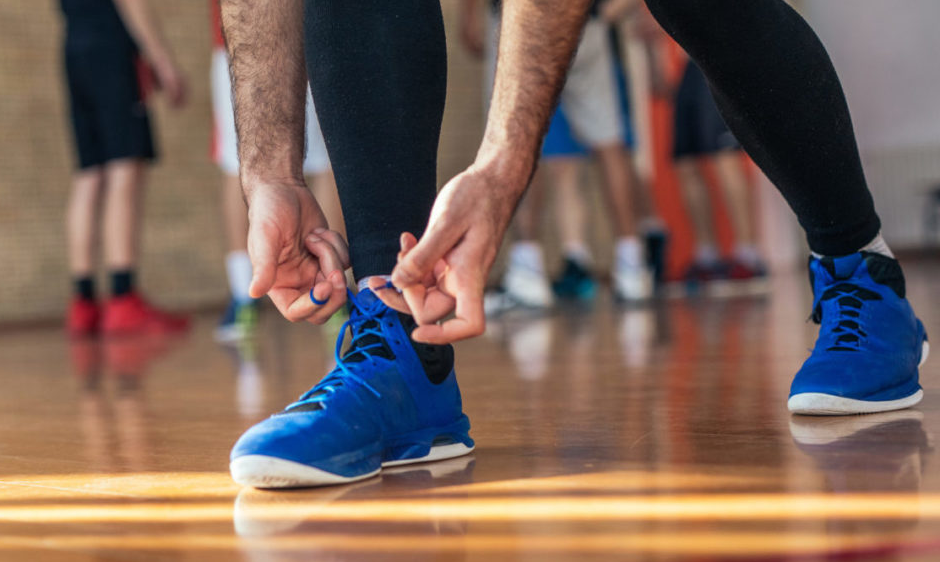 For High Arches
Lace the shoes up in a crisscross pattern to the bottom group of holes.

Thread the left and right shoelaces up both sides of each shoe. This will create high arches for more stability.

Finally, crisscross the shoelaces one more time and tie the shoes as you normally tie them.
For Wide Feet
Thread the laces through the first pair of eyelets at the bottom of the shoe.

Lace the shoelaces directly up the shoe and don't crisscross them. In this way, the shoes can be tightened without putting too much pressure on the feet.

Crisscross the shoelaces on the remaining eyelets and tie them up accordingly.
The Bottom Line
Finding a perfect pair of sneakers for basketball can be a fun thing but can prove to be difficult because of many factors involved. Normally, well-built sneakers qualifying all the aspects are not very cheap so make sure they are a perfect fit for you. The above guide is there to help you in order to answer the question of "how should basketball shoes fit?" A great fitting sneaker will have you hooping up with confidence while playing the game.