If you want to develop and maintain your fitness levels, a punching bag is certainly the best tool for that. When you developing a habit of hitting a punching bag, it gets your fitness levels right up there. A punching bag work is not only a great stress-relieving exercise but also a fantastic cardiovascular workout. It makes your mind clearer and gets you in a better mood after a bag punching session. 
I have been doing punching bag workout sessions for quite a long time now. I have done it both indoor and outdoor. When outdoor, I always prefer to hang my punching bag from a tree that helps in an effective workout as planned. This is also the question I have been asked many times that 'how to hang a punching from a tree. So, here let me show you how you can hang a punching bag from a tree and perform an easy workout…
[acf field="how_to"]
Hanging a Punching Bag from Tree
Before moving on to the process of hanging a punching bag, let's check out some benefits of hanging a punching bag from a tree.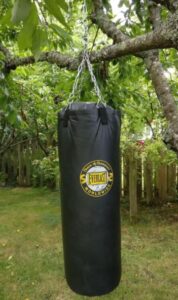 Benefits of Hanging a Punching Bag
You can exercise in the fresh air which isn't possible in the gym or anywhere indoors. This is always preferred over working out in an indoor environment.

It is easy and quick to set up as you don't drilling or installation of any kind like you require in an indoor environment. This removes all the complications from this process.

There are no accessibility issues as you are setting up the punching bag in your garden. It is right there when you need it and you don't have to travel to a gym for this purpose.
Equipment Required to Hang a Punch Bag
You don't need much technical equipment, a few basic things will do the job for you.
A punching bag of course.

A step ladder to reach the tree branch

A heavy bag hanging strap

A helper to help you lift the punching bag. It is not a good idea to do this on your own as punching bags are quite heavy.
Specifications of the Tree Branch
There are no measurements per se for the needed tree branch. Just a good solid tree branch is all that you need for hanging the punching bag. Just check the tree branch for an appropriate height and thickness according to you as it will support a heavy bag. You also need to consider that the tree branch you choose should be able to support at least four times the weight of the bag. The reason is that there are some additional forces the branch will bear as the bag swings around after being hit.
Sometimes, the punching bag jumps upward when you perform a kick or an uppercut. This also adds a burden on the tree branch that is needed to be handled. Using a tree branch is also helpful as it produces the creaking sounds giving you a fair bit of warning before it snaps. So, you have the required time to maintain a good distance from it to keep yourself safe.
Methods to Suspend a Punching Bag from a Tree
There are several methods you can use to hang a punching bag from a tree. These methods allow you to hang a punching bag from a tree with ease. Some of these methods are:
Use a Bespoke Strap

Use a Tie Down Strap
1. Using a Bespoke Strap
A bespoke strap is a purpose-made strap to hang a punching bag from a tree. It is very easy to install and simply loops around the tree branch sharing the burden of it. You can easily remove the bag whenever required without having to takedown the strap as it features a D-ring and oval screw lock system. The bespoke strap can hold up to 500 lbs. making it a very practical thing. 
The straps of the punching bag are fed up to the oval screw ring on the bespoke strap. This way the punching bag holds its position on the bespoke strap securely and efficiently. To lower the punching bag, you can use an extension chain for your convenience. The extension chain has two carabiners on each end, you need to clip one to the D-ring and the other to the oval screw ring.
2. Using a Tie Down Strap
Tie-down straps are heavy-duty straps made of nylon stripping. This strap has a cam buckle attached to its one end. You create a loop by feeding one end of the strap through the cam buckle. You can tighten or loosen as required. These straps are also used to tie down items to trailers or your roof rack. They are extremely strong with cam buckles that hold them firmly in one place. 
You throw the strap over the tree branch and get one end of it through the D-rings on the straps of the punching bag. Now pass the other end of the strap through the cam buckle and begin to pull it tight, now gradually start lifting the punching bag to the required height. This whole system is very flexible and allows you to have great control over the exact height of the punching bag. You can also dismantle it easily by pressing the cam buckle. It will release the grip of the nylon strap and the bag will fall on the ground.
Is It Safe to Leave a Punching Bag Outside?
It depends on the type of weather you are encountered with and the spot sheltering where your punching bag is hanged. If the bag is exposed to a lot of rain, it can become a potential health hazard apart from getting drenched and damp. It can also cause the bag to rot over time and it will start to disintegrate. 
If you live in a sunny location, the UV will degrade the fabric of your punching bag. So, it is better to take the punching bag inside after every use even for a great quality one. Yes, it can be tiresome but at least you have a bag with you for a long time. If the weather conditions are good where you live, you can also leave it there but I won't do that.