Brad nailers are a great investment for homeowners and carpenters. They are a great tool for home renovations and DIY projects and provide speed, accuracy, and efficiency. These factors make it imperative that they should operate at best for keeping the work hassle-free. Like any other machine, brad nailers also require proper maintenance from time to time. One of the important parts of maintenance is the oiling of a brad nailer. Brad nailers are bound to get old and rusty like other machines so, it requires consistent oiling from time to time. Without oiling, your brad nailer will get rust and face jamming, improper firing, and air leaking.
So, how to oil a brad nailer? Here we will discuss all the basic queries about oiling a brad nailer and guide you with proper instructions so you can easily oil your brad nailer.
Why Do You Need to Oil the Brad Nailer?
Every machine that has moving parts require lubrication to ensure its smooth movement. In the same way, brad nailers also require oiling for their smooth operation. All brad nailers whether it's 18 gauge brad nailer or cordless brad nailer have a piston that helps the nails going through the wood. The pistons cause friction while working so regular oiling is required to reduce that friction. More friction means the brad nailer's working efficiency will be decreased.
There are chances that if a nail isn't oiled, it will build moisture inside the gun and damage the metal parts. The best option is to apply daily oiling for a long time working of the brad nailer.
When a nail is fired, it travels through a metal tube at high speed that connects to the compressor. There is an O-ring seal at the ends of the tube. This seal gets dry with the passage of time and loses elasticity causing air leakage around the tip of your nails. This results in wasted air, power loss, and overheating that can lead to motor and other component failures.
Which Oils Are Suitable for Brad Nailers?
It is important to select a proper oil for your brad nailer as choosing the wrong one can reduce the life of your machine. The suitable oil application will allow the smooth movement of the pistons in the brad nailer. Always go through the user manual to find which oils are recommended to use for your machine. Normally, the recommended oils for brad nailer are:
5W non-detergent motor oil
30W non-detergent oil
Depending on the weather conditions, brad nailer oils will vary. Don't use any transmission fluids, motor oil, and compression fluid as they will harm your machine instead of doing well. Also, don't use the same oil in all seasons.
How to Oil a Brad Nailer? Some Steps
[acf field="how_to"]
Follow these steps to apply the lubrication for best results…
Step 1: Power-off the Brad Nailer
Turn off the power of your brad nailer if you are using it. In case of a pneumatic brad nailer, turn off the air tool and release pressure from the pressure valve.
Step 2: Remove the Nails
The second step is to remove the nails from your machine. It is also necessary for every other type of nailing machine as well for your own safety.
Step 3: Brad Nailer Positioning
You need to place the brad nailer in the required upright position which is the best way to oil the nail gun. Now, apply the oil to the critical parts of your machine by holding it in one hand and applying 4 – 5 drops of oil with the other hand.
Step 4: Power up the Brad Nailer
Power up your brad nailer and pull its trigger to let the oil spread all over it. Have some cleaning cloth with you as it will be required to clean the dirty oil coming from inside. Repeat the cleaning process until the dirty oil is completely wiped out.
Step 5: Brad Nailer Rechecking
After applying oil, recheck the parts of the oiling again. Don't use oil for nail and nail magazines as the oil will catch dirt or the magazine might get rusting.
Perform all the above-mentioned steps and you have oiled your brad nailer successfully.
What Are the Brad Nailer Areas That Require Oiling?
There are some parts on the brad nailer that require lubrication to maintain its performance. Hence, you need to perform regular maintenance of these parts.
1. Trigger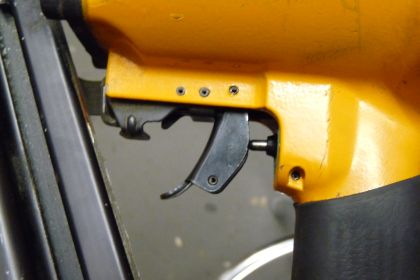 One of the common problems associated with the brad nailer is the trigger jam that mainly occurs because of poor maintenance. It is important to apply oil on the trigger regularly as it ensures the speed that is required to shoot the nails.
2. Air Fitting
Air fitting also needs regular lubrication from time to time. You need to keep the air fitting lubricated with a couple of lubricant drops that will last till the next use of the brad nailer. You cannot use the brad nailer properly if the air fitting hasn't been lubricated enough.
3. Feed System
When you don't apply oiling to the feed system of the brad nailer, it results in the formation of debris in this section. This debris will result in improper nail shooting from the brad nailer. There are also chances that the brad nailer will get damaged and breaking of shooting functionality.
How Frequently Should You Oil Your Brad Nailer?
When you applying oiling to your brad nailer after every use, it results in smoother operation and better performance of your machine. Without proper oiling and maintenance, many particles will get stuck inside the nailer that may lead to the degradation of your machine.
You can also go for some oil-free brad nailers but they will hit massively on your wallet. So, it is better to apply oil to the nailer regularly to avoid any friction and debris collection.
How Much Oil Application Is Enough?
If your brad nailer is new, you can apply 8 – 10 drops of oil which will be enough. When the brad nailer is used frequently, you need to apply a couple of drops before every use.
Wrapping Up
Like every other machine, a brad nailer also requires proper lubrication. You must apply the right oil to your brad nailer to ensure good performance. You also need to know what kind of oil is suitable for your machine in specific weather. You can refer above for getting the right answer regarding how to oil a brad nailer. You can keep your machine in perfect condition for a long time by regularly cleaning and oiling it.