If you are longboarding for months, there are great chances that you will need to replace these bearings because of the wear and tear that happen to them. If not, the overall performance of the board will be affected. If you replace them in time, it will hugely benefit in achieving maximum output from it. The quality of your longboard ride is highly influenced by the stability and durability of its parts. If there is an issue even in a single part, you will see some noticeable changes in the performance of your longboard bearings.
While the longboard decks and their parts are generally durable, they are required to be replaced during periodic maintenance to ensure a safe and smooth ride. The longboard bearings are one of the parts that need to be changed periodically. Once these pieces are worn out, you must know how to replace longboard bearings.[acf field="faqschema"]
Why it is necessary to replace your longboard bearings?
Replacing the longboard bearing is as important as getting the best longboard bearings. Before we dig deep into the longboard replacement process, let's discuss the need to change the longboard bearings. The main reason for longboard replacement is that it affects your speed and it's dangerous to ride the broken bearings. When the longboard bearings get worn off, they start to slow down. You will notice that your board doesn't ride that far anymore even after giving it a nice push. 
Sometimes, when you try to take your board and spin your wheel by hand, the wear of bearings becomes even faster. Your safety is also compromised when you don't replace the bearings as they might seize. The seized bearings can result in your wheel falling off and might unwind the axle nut.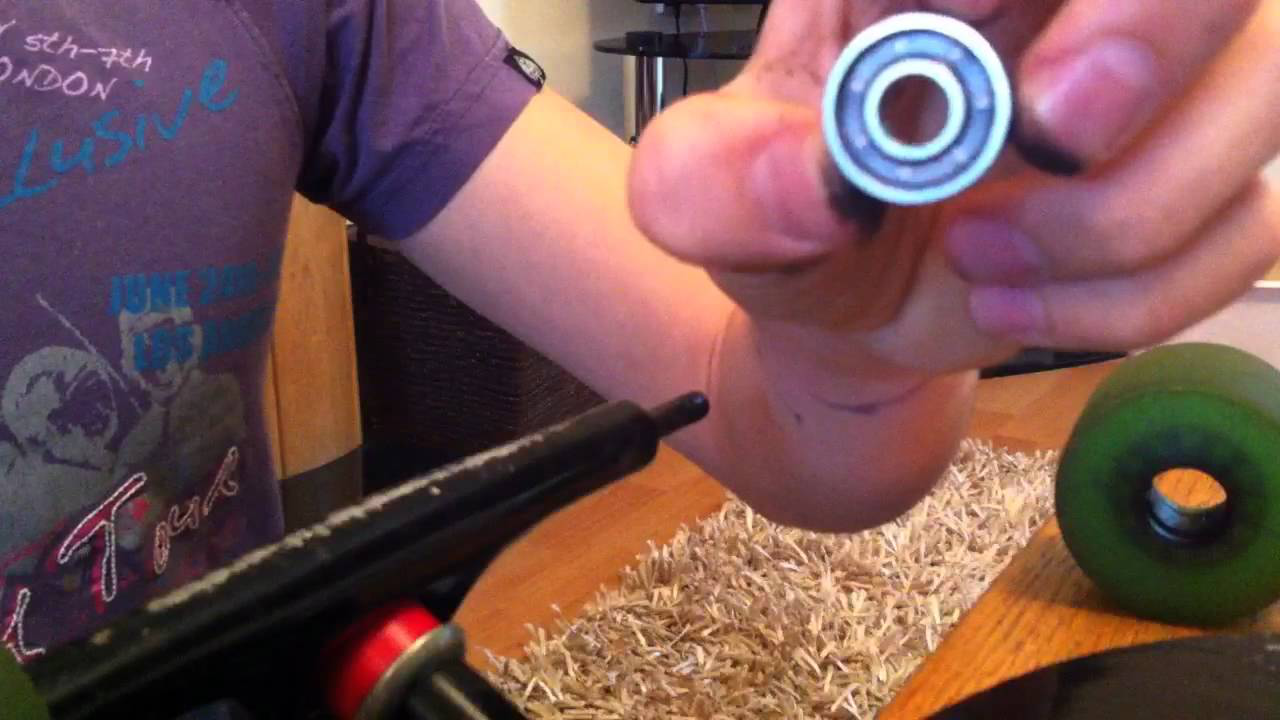 How to determine that your longboard bearings went bad?
There are three ways to identify bad longboard bearings.
Gently spinning the wheel

Check for bearings noise

Side to side movement of your wheel
1. Gently Spinning the Wheel
The first test is to spin the wheel gently. To perform this test, you need to take your board and gently spin its wheel with your hand. It should start spinning freely without having to apply too much force on it. If it doesn't spin freely and you need to apply force, or if the spinning stops immediately, these are all signs of your worn-out bearings that need replacement.
2. Bearings Makes Noise
The second test is to check the bearings for noise. You need to spin the wheel with more force to spin it longer. When it does, listen to the movement for noise. Quality bearings are really silent. If your bearings are making any kind of sound or strange noises, it is a clear indication of bad bearings that are needed to be replaced.
3. Side to Side Movement
To perform this test, you need to move your longboard wheel from side to side. Make sure that your longboard axle nut is tightened before performing this test. Now, move it along with the axle, from the axle nut towards the hanger and back. Try to perform these movements as fast as you can. If your bearings are solid, they will restrict the side-to-side movement and will not make any sound. Double-check the tightness of the axle nut one more time and if you are still able to move the wheel, go for replacement.
How to Replace Longboard Bearings – Some Steps
Materials Needed
Clean cloth

Socket wrench (0.5 inches)

8 sets of new longboard bearings

Small container for removed items

Flathead screwdriver
Steps to Perform
Flip your longboard upside down so that its deck is facing downwards. Lay the longboard on a sturdy surface. Remove the wheel nuts by using a socket wrench by turning it counter-clockwise. 

Keep all the removed nuts in a small container to keep them safe. 

Detach the metal washers located between the nuts and other bearings. Also, place them with the nuts in a small container.

Pull the wheel away from the board.

Remove the other metal washer. If there is none then skip this step.

Use the screwdriver to force the bearing on one side of the wheel out. Detach the metal spacer and place it in the safe box.

 As the wheels are off, it's better to clean your

best longboard wheels

.

Clean the wheel with a clean cloth and wipe out the dirt.

Repeat this entire procedure for all the longboard wheels you have.
How to Install New Longboard Bearings?
Steps to Perform
Take the wheel and position it on a hard and sturdy surface. Get the new bearings and place them on the hole located in the center of the wheel. The color shield must be facing outwards.

Apply steady pressure on the bearings to press them down the middle of the wheel. If you hear a click sound then you have placed them right.

Now, flip the wheel accordingly. Insert the metal spacer such that it rests on top of the new bearings you have just installed.

Install the second set of bearings. These bearings will be placed on top of the metal spacers. Again, you will hear a click sound to confirm you have placed them right.

Repeat the above-mentioned steps for all the wheels.
How often should you replace the longboard bearings?
A good set of bearings generally last for a couple of years. There are few situations when you should consider replacing your current bearings.
Low-quality bearings

Current bearings started slowing down

Bearings are broken
1. Low-Quality Bearings
Usually, the weakest point of a complete longboard bought from an untrustworthy place is the bearings. Sometimes, you find out that the board is equipped with the best quality bearings but more often than not, their quality is mediocre. So, to be on the safe side, when you buy a board, consider an upgrade for bearings if you want to push it around a lot.
2. Bearings start to slow down
When your current longboard bearings are underperforming, you might want to replace them accordingly. If you notice that your bearings are starting to slow down, you might need an upgrade. 
3. Bearings are broken
It is a self-explanatory thing but it must be mentioned here. Don't ride your board at all if it has a broken set of bearings. It is really dangerous especially if you like going at high speeds. 
The Bottom Line
To sum it all up, it is highly recommended to get quality longboard bearings and replacing them every couple of years. It is an inexpensive and hassle-free way to enjoy longboarding for a long time.