Knives are an essential tool that helps you in your everyday life. They become very essential especially when you are out in the wilderness. Any kind of knife requires a proper knife sharpener but it always isn't there when you need it the most. In such desperate situations, it is highly possible to use everyday items to make your knife razor-sharp again. You just need to know the basics of how to sharpen a knife without a sharpener and using some basic household tools to sharpen your knives. Even if you have a dishwasher safe knife set, these sharpeners will work perfectly on them.
Here we present some innovative ways of using household tools to sharpen your knives. With these innovative ways, you don't need to buy expensive knife sharpeners because they work perfectly.
Household Methods to Sharpen a Knife without Sharpener
1. Coffee Mug
Let's start with something that sharpens a knife by removing material from the blade, i.e. the coffee mug. It is available in every house and not very costly as well. You need to simply turn the mug upside down and use its bottom surface to sharpen your knives. The trick is to hold the coffee mug at a 20° angle and rub the knife blade against the mug's bottom. Do this process until you get your desired knife edge. You will start to start some discoloration on the mug that indicates blade sharpening. Make sure to switch to the other side of the blade to properly sharpen the knife.
2. Leather Belt
Using a leather belt to sharpen the knives sounds strange but it is another effective way to sharpen the knives. Technically speaking, it doesn't sharpen the blade but it does make it keener by realigning the edge. A leather belt is something very easy to find, even you might be wearing one right now, and it provides a quick and easy way for stropping a blade. You need to make sure that your leather belt doesn't have any stitching. Run the knife away from the cutting edge for blade realignment. 
3. Using a Nail File
Using a nail file to sharpen the knife is another common procedure as it is something easily available in most houses. You can usually find the nail file in survival kits. Nail files have a rough surface as they are made to file down your nails. The design of nail files is pretty similar to that of knife sharpeners so you can easily use it for this purpose. Nail files are lightweight and act as an improvised knife sharpener that can be carried anywhere you go. For using the nail file, place it on a table and tilt your blade 10° away from you. Use one hand to hold the nail file and the other to move the knife for sharpening. 
4. Separate Knife
Using another knife for sharpening your main knife is something that is often seen in movies and cooking shows. This other knife works great as a sharpener. You need to be extra careful while handling both these knives or otherwise, it can get messed up and there are chances of injury as well. This method works best when you have two slightly dull blades as one will sharpen the edge of the other. Don't use the blade of a knife to sharpen the edge of the other knife. The right thing to do is to use the backside of the other knife for this purpose. Always be careful while sharpening your knives and refrain from over-sharpening the knives. 
5. Car Window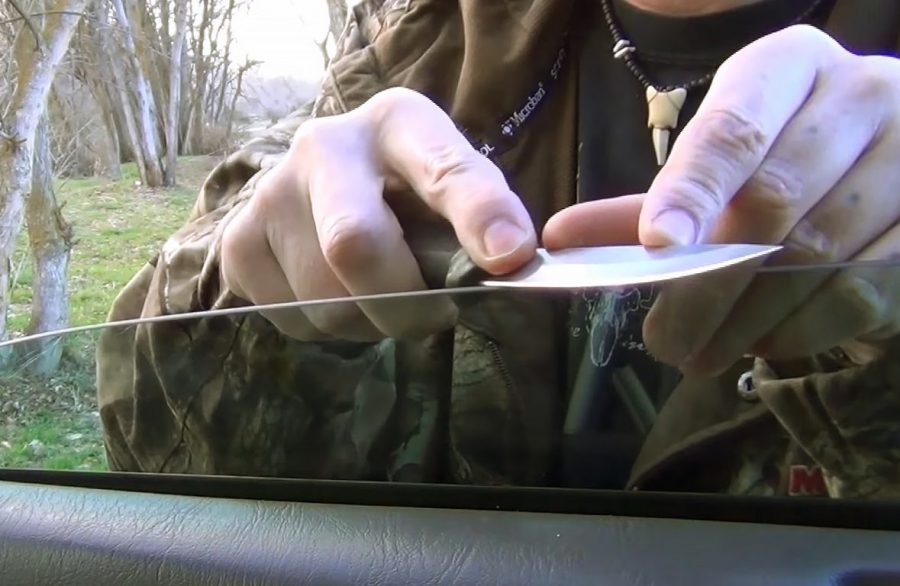 It may seem weird but using a car window for sharpening the knives is an effective technique. You use the edge of the car window like a sharpening rod in this method. The key to success is ensuring that the selected car window isn't polished and is slightly rough. This particular trip isn't helpful when you are on a hiking trip, but it is useful when you are on a road trip. You need to place your knife at a 10° angle away from you and stroke it in one smooth movement. The window edge will act as a honing rod, move your strokes in such a way that it covers the full length of the blade. 
6. Broken Glass Bottle
You are probably thinking that it's dangerous! The point here is that the edge of a broken glass bottle isn't polished which is a good thing for sharpening your knives. It doesn't even have to be a broken glass bottle, you can use any unpolished glass edge for that matter. To sharpen your blades, tilt them at an angle and swipe them against the broken glass in the same direction several times. Don't use a polished glass bottle for this method as it isn't a good choice for sharpening. This process can also be done using the edge of an empty jar.
7. Slate or Cement
Sometimes when you are out on adventures like camping and hiking, you have more access to slate or cement than anything else. The key in this method is to use the flooring slate as an actual sharpening stone. Try to find a flat slate that is clean and a bit rough as well. It provides a perfect surface to swipe your knife back and forth on it a few times. Set your knife on the slate away from you and start your movements. Try to cover the full length of the blade. Repeat the movements until the edge feels sharp. Now, turn the blade over and repeat this process for the other side of the blade.
Wrapping Up
If you are in need to sharpen your blades but don't have the sharpener then don't worry. The above-mentioned seven methods are a perfect way to sharpen your knives with items that are commonly found. These tricks will especially help you when you are on outdoor adventures. However, keep in mind not to always use these tricks as sharpening your knives too often with these methods will damage your knives, so, use them only when you have the sharpener.