Longboards and skateboards are similar and different in many ways. Skateboard vs Longboard have their set of advantages and disadvantages. For instance, a skateboard is best to perform different tricks as it is compact and lightweight, whereas a Longboard doesn't work for tricks due to its large size and heavyweight. However, choosing the best board between the two depends on your personal needs. This Skateboard vs. Longboard detailed and comparison guide will help to understand which one can be ideal for you.
Skateboard vs Longboard- Similarities and Differences
Let's start with the differences between the boards.
| | | | |
| --- | --- | --- | --- |
| | | | |
| | | | |
| | | | |
| | | | |
| | | | |
| | | | |
| | | | |
| | Bowl, street, mini ramp, and vet | Downhill, dancing, cruising, and free riding | |
| | | | |
| | | | |
| | | | |
| | Small hard wheels having 52mm and 58mm size | Big soft wheels featuring 60 mm and 70 mm | |
| | | | |
| | | | |
| | | | |
| | | | |
Differences between a Skateboard and Longboard
A Longboard is wider and longer than a skateboard, with more flexibility and convenient riding features. Therefore, longboards are best for beginners. They are equipped with large soft wheels, whereas skateboard features small and hard wheels for performing various tricks.
Though big soft wheels are ideal for riding, they are also more bouncy when compared to hard wheels. For instance, if you want to perform Ollie, the Longboard is more likely to bounce back up. It makes the landing trick unstable, and there are more chances of landing primo.
If you love to perform different tricks, skateboards are excellent for you. Featuring smaller trucks, a skateboard has a compact and lightweight design. On the other hand, a Longboard has wider trucks featuring a different design. The best thing about wide trucks is that they offer maximum stability at high speeds. Small trucks make a skateboard more agile which is required for Ollies and flips.
Though you can also perform some tricks using a Longboard, they are usually limited. Skateboards are best for technical skills that need flips, jumps, grinds, etc. Longboards work best for long distances and offer to perform rudimentary tricks such as carving, slides, and pumping.
Deck Shape Difference
The deck or board of both boards is different in many ways. Popsicles curve up at the end and are concave (low, mid, and high), about 32 inches long, and width may vary from 6.5 inches to 10 inches. Wider boards provide maximum stability and are commonly used for transition skateboarding, whereas narrow boards are ideal for technical street skating.
But, differences are depending on the board. For instance, baker comes with a less curvy tail, and various boards feature bigger, wider, smaller, or high noses or tails.
Almost all skateboards have a concave board which offers more control to the board while performing tricks.
Types of Longboard Decks
Longboards vary in many shapes and shapes. The best thing is that all shapes are designed for specific purposes.
This board is wide in the center and has a split tail. It works best for classic surf style and excellent for carving.
Such longboards are wider in the center with a sharp nose and tail. Pintails are directional boards which means they can ride in a single direction only.
These smaller boards are quicker and can be less smooth for the new user. You can use it to perform different tricks as they have steeper concave and elevated tails and noses.
Speed boards are available in different shapes and sizes but offer the best stability at higher speeds.
Such boards have wide, rather round tails and noses and are excellent choices for beginners. They are considered highly stable boards but are less optimal for carving.
They are bi-directional boards and offer better stability at higher speeds. Cut-out boards are recommended for downhill, freestyle, and free rides.
Perfect for a free ride, and you can ride the board in both directions. These boards are very stable and therefore highly recommended for beginners.
Such boards feature a lower deck as compared to the nose and tail. They also offer the best stability and are ideal for beginners. You can use them for long-distance cruising while enjoying an ultra-comfortable riding experience.
Difference between trucks
Typical skateboards may vary in responsiveness and height depending on the brand. However, a Longboard fitting depends on your preferred style. The prime difference between the two is how trucks are attached to the deck. Also, the deck shape may vary depending on the type of mounting.
This style provides excellent stability and is considered best for beginners. However, they also make the board less responsive. The trucks in this style are attached by cut-outs in the tail and nose, which helps to drop them through and attach from the side.
These trucks are attached to the Longboard bottom deck and offer more control and leverage as the trucks sit right below your feet. These are the most common types of trucks available on the market.
The trucks are attached by fitting them in the deck to provide less leverage as compared to top-mounted tracks.
They offer a lower center of gravity but also allows for robust truck leverage. However, you can fit only a single truck to it.
Difference between the wheels
When it comes to wheels, there are differences between the skateboard and the best longboard wheels. A skateboard needs smaller and harder wheels as it is easy to perform tricks on hard and soft wheels because they don't bounce as much. Though you have many choices, you need wheels between 52 mm and 58 mm, depending on your experience and style. If you are a street skater, make sure to choose small wheels.
The hardness of the wheels should be between 85A and 84B. Remember, hard wheels are not comfortable for riding long distances.
A Longboard comes with big and soft wheels with a size of between 63 mm and 80 mm, depending on your experience level and style. Wheel softness depends on where you want to skate. If you are a beginner, you should choose between 75A and 85A.
Soft wheels are grippier, and the Longboard wheels come with a larger contact patch as compared to the skateboards. They usually don't accelerate as fast as hard and small wheels but offer more stable speed and balance to the rider.
Bushings and Shapes Difference
Regular skateboards feature cone-barrel bushings, but longboards have different types of shapes and purposes.
Bearings
One of the best features of Longboard bearings is that they can be easily fitted with skateboards and many others. They are many differences between the two, let's say Zealous & Bones. On the other hand, downhillers want to use bearings that can work better with heat from friction. Though ceramics are great, they can be expensive.
Skateboard bearings such as Bones Reds speed up much quicker, whereas Zealous bearings need some time to get to the desired speed. Zealous bearings can keep on going, but Bones will slow the board down faster.
Longboard Purpose
There is a common misconception about longboards that they are lengthy. However, there are varieties of longboards available on the market that varies in width, shape, length, and purpose. Some of them are great for cruising long distances, some are best at speed and downhill, some are excellent for dancing, whereas some can be used to perform various tricks.
A Longboard is an ideal companion to cruise around the town or ride long distances. These boards don't need much effort to get up to speed. Once you get used to the board, it is one healthy activity to stay active.
Longboarders such as different styles, make sure to choose the best one for your experience, style, and needs.
Different Longboard styles
Slalom
Cruising
Downhill
Dancing
Freeriding
Carving
Skateboard Purpose
A skateboard is specifically made for tricks, and its unique shape helps to perform different tricks easily. Though you can ride and cruise on Skateboard, you need softer and bigger wheels for this. These boards are made to perform technical tricks such as Ollie, kick flips, and grinds. Skateboards excel at skate parts and streets but need more effort to push around.
The deck wheels and trucks are specially designed to withstand minor impacts and more agile as compared to Longboard. To be honest, it is a different sport and tough to compare to longboarding. It is better to learn to ride a skateboard before trying tricks.
Skateboard styles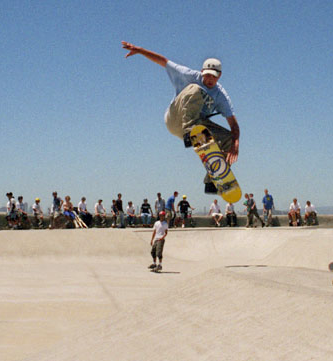 Bowl
Vert
Technical street skating
Mini ramp
Skateboard
Easy to carry around
Convenient storage
Best for landing tricks
Cheaper than longboards
Made to resist impacts
Compact and lightweight design
Need serious dedication and efforts
Not ideal for longer distances
Hard wheels are uncomfortable
Hard to balance
Longboard
Best for cruising
Easy to balance and ride
Excellent for beginners
Lasts for a long time
Best for long rides

High price
Bulky size
Not ideal for portability
Limited tricks