How to Increase Water Pressure in Garden Hose: Low water pressure can be really annoying for garden lovers. Typically the water pressure is controlled by the water source like municipal water supply, well, or even rain barrel sometimes. So, the question is how to increase water pressure in the garden hose? There can be different reasons for low water pressure, such as water lines splitting too many times, low water flows, or being forced to flow up an incline. One of the most effective ways to solve the issue is using the best pressure water hoses. However, if you want to save money and time, here are effective ways to increase water pressure in a garden hose.
How to Increase Water Pressure in Garden Hose
Before sharing the increasing water pressure techniques, it is essential to consider why water flow decreases and how it affects the hose. Low water pressure of your hose for washing car or normal gardening hoses and even soaker hoses can make you go nuts as it makes your watering tasks unpleasant and slows down your progress. There can be many reasons for low water pressure even if you have the best stainless steel garden hose or any other top hose, but you can effortlessly tackle them by following these proper techniques.
Check the Water Source First
Typically, water comes directly from the source to outdoor spigots and irrigation systems. The first thing you need to do is to check the pipe size that runs from the source to the outdoor taps and irrigation control box. Sometimes, the pipe used for sourcing water is extremely narrow.
When the outdoor line has a narrow pipe, it will definitely supply water with low pressure. For instance, if you have a ¾ inch hose to a 5/8 inches hose, it will drastically decrease the water pressure by around 30%. Just imagine the water pressure case with a ½ inch PVC pipe. So, in many cases, the low water pressure is the result of not supplying enough water to the targeted outlet with the required speed and force. Also, make sure to check for leaks, bottlenecks, and splits.
Check Splits and Bottlenecks
When you are done with a water pipe, carefully check those areas where bottlenecks and splits can occur. One and the best way to avoid them is using the best hose reel cart.
Make Sure the Hose Bib is Full-sized
Most people don't pay attention to the hose bib size, but it is important for water pressure. These bibs are available in different sizes, such as a ¾ inch hose bib is normal and can supply a large volume of water. On the other hand, a hose bib with ½ inches size decreases the water flow drastically from the source pipe to the garden hose. If the water pressure is high, then you should use a high-capacity hose bib.
Check the Hose Splitters
An average two-way hose splitter comes with a ¾ inches inlet and outlet, but its ball valve on the inside doesn't allow for water to pass around a 3/8 inches to 5/8 inches opening. It will result in low water pressure beyond the split. You can use a backyard connector for water to pass in both directions.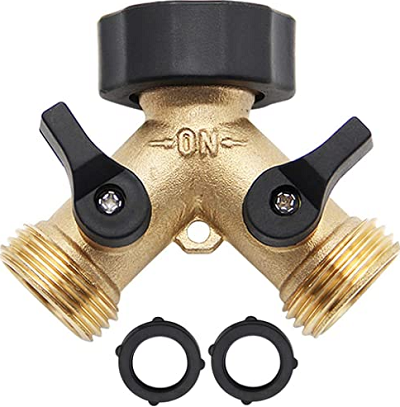 Check your Garden Faucet
Don't forget to check the garden faucet that you frequently use for outdoor watering. In simple words, if the garden faucets are the only areas with low water pressure problems, then there may be a leaky or blocked pipe system that needs to be cleared out. Another best way to check is to run both garden and kitchen faucets at the same time to check whether your water system can handle multiple running water outlets at once.
Check the Main Water Valve Indoors.
Commonly, the water valve is located under the sink. Make sure that your main water valve is fully turned on.
Check Water Pressure Regulator
Another thing you need to check is the water pressure regulator. They are located near to the main stopcock, either in the garage, outside, or beneath the sink. Check the PSI or pressure rating of the regulator. Anything below 30 PSI is too low for gardens.
Ways to Increase Water Pressure in Garden Hose and Sprinklers [acf field="how_to"]
Clean or Repair the Hose/Sprinkler (Clogged and Leaked)
For cleaning faucets, you need a bleach solution, water, and soap. No matter which technique you use, make sure to run water properly through the faucet before you attach a garden hose to prevent your lawn from chemicals.
Cracked and constantly leaking hoses need to be replaced as there is no way to deal with them. Garden hoses are very easy to replace, but one thing is important, buy a hose that fits your faucet properly.
Repair or Clean Pipes
Dirty pipes need proper cleaning to increase the water pressure in a garden hose. Also, check if the pipe system is clogged. Sometimes, you need to replace the whole piping system because repairing them can be costly, and also, there is no guarantee of proper working. Shut off the water system before replacing them.
Check Garden Hose Leakage.
One of the best ways to enjoy full water pressure in a garden hose is to store it properly after using it. Sometimes, people use the hose for watering, and they leave it outside. Weather conditions can affect the performance of the garden hose and may weaken it, which leads to leakage issues. Check whether the hose is leaking or not, as it can be one reason for low water pressure.
Final Words on Increasing Water Pressure in Garden Hose
Watering your garden with ideal water pressure is one luxury only gardeners know. Though you can check for problems and home remedies to increase the water pressure, you can find garden hoses specially made for low water pressure issues. Best pressure water hoses are made with durable material and special features to increase the water pressure in a garden hose.