Hitting the small fine nails is something we all have to go through from time to time. You all know how many times you have smacked your fingers while trying to hit those nails. The best way to avoid hurting your fingers is to have a brad nailer in your storage. It is a great tool that helps in a wide array of applications and materials. To further avoid the uncomfortable circumstances, let us teach you what is a brad nailer used for. But first, you should have a little introduction about this machine.
What is a Brad Nailer?
A brad nailer is a specialized equipment that is designed for detailed woodwork. Brad nailer has become a builder's choice of a tool with the passage of time and has replaced conventional hammers. It is an efficient solution for inserting nails in every wooden type and protects you from hurting yourself while trying to hammer a nail. Here is a list of top brad nailers.
Brad nailer uses thin gauged nails for binding the wood trims. These thin gauged nails are very difficult to drive manually in the wooden blocks but the brad nailer does it without any issue. Electric power is responsible for the effortless penetration of nails and the best part is that they are almost invisible. You don't need to use the carpenter putty for hiding the big nails popping out in this case.
From giving fine finishing touches to your carpentry, molding, and trimming work, brad nailers have become a go-to gadget.
What is a Brad Nailer Used for?
If you are a homeowner and always try to fix things, an 18-gauge brad nailer will be very handy. It uses very thin nails that are very less likely to crack the wooden boards, unlike the conventional nails that can split the wooden boards. Below are mentioned some uses of the brad nailers…
Crown Molding
Crown molding is the baseboard for a ceiling. It has a bordering on the lining between the ceiling and the wall surface that differentiates it from the regular ceiling. This molding is done using brad nailers as it requires thin invisible nails for molding work. here is the list of best nail guns for crown molding.
Crafting Work
Crafting is another important work when you talk about home renovations. For crafting small wooden objects such as picture frames, a brad nailer saves you a lot of energy and time. You can even teach your kids how to do crafting work using brad nailer after they have reached a responsible age. You can use it for building small wood furniture pieces, attaching coves, stops, and rails.
Baseboards
For attaching baseboards to wall surfaces, the best option is to use a brad nailer. This is because a brad nailer drives the nails into the wood with ease without breaking or splitting it. This way you can effortlessly attach small pieces of wood to larger ones. As mentioned before, you also don't need to use carpentry putty to hide the nails as they are already invisible.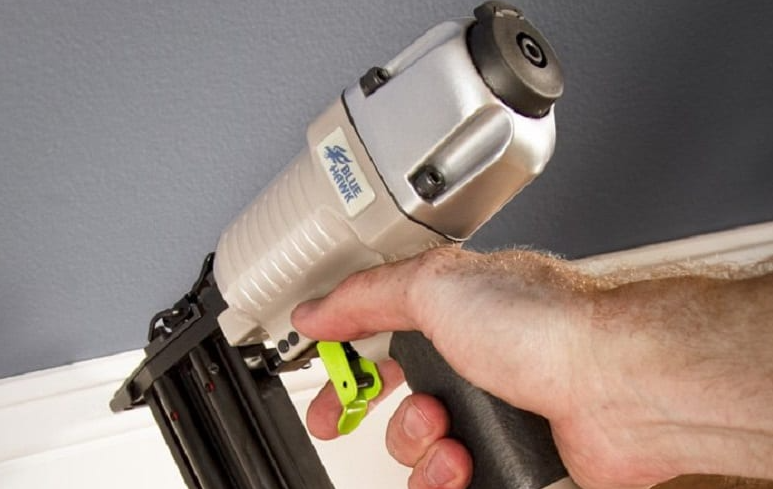 The Gauge of Brad Nailer
Whenever you go to a brad nailer store, the seller will always ask you about your preferred gauge. The gauge basically defines the diameter and thickness of the nail you are using. The greater the gauge of the brad nail, the smallest its diameter is. Finish nails are made of a thick wire and are 15-16 gauge, whereas brad nails are of 18 gauge and are thinner than finish nails. Gauge also defines how easy it is to drive a nail into the wood. Brad nails are easily driven into the wood compared to the finish nails.
You Might Want to Read: Brad Nailer vs. Finish Nailer – An Inside
Conclusion
A brad nailer is a very handy device that is used for different home and office renovations. It has become a popular choice with the passage of time because of its ease of use and other benefits. We have answered a general query regarding a brad nailer in detail above, i.e. "what is a brad nailer used for". Just go through it and use this device accordingly for the best possible results.